The early arrival of monsoon and well-distributed rains may increase the acreage of soybean in the country. Soybean cultivation area in India set to jump record 11.72 million hectares.
Increase in Soybean Cultivation
Favourable weather has spurred the growth of soybean in Maharashtra and Madhya Pradesh, its central growing regions in India. The area under cultivation can increase by 15% in 2020. The farmers have covered around 10.15 million hectares till 10th July as against 5.17 million hectares the previous year.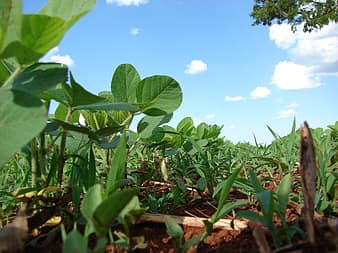 Favorable Climate
While farmers of Madhya Pradesh have covered 5.64 million hectares, Maharashtra has increased the area under cultivation to 3.68 million hectares. Both states account for over 80% of soybean output and have received more than average rainfall. However, the cultivation in Rajasthan is at par with a year-ago level, which is 8.14 lakh hectare. Davish Jain, chairman of the Soybean Processors Association of India, said that the country might see a record crop after seven years if everything goes well.  
Increase in Prices by 4.6%
Deputy chief executive of Adani Wilmar, Angshu Mallick, noted that farmers are expanding the area under soybean cultivation. Besides, another factor that is encouraging farmers to sow more soybean is the increased MSP by 4.6% to 3,880 rupees per quintal. However, local demand is weak, and soy meal exports are also not picking up. The bumper stock could put pressure on the prices in the new marketing year which will start with a carry forward of 1.28 million tonnes,170,000 tonnes more than the previous year.
Time to Restrict Oil Imports?
The bumper output of soybean could decrease imports of vegetable oil from Indonesia, Malaysia, Argentina, and Ukraine. Also, the increase in acreage of soybean could help India revive its exports of soybean meal to Bangladesh, Japan, and Iran. That said, SOPA has demanded quantitative restrictions on the import of crude soybean and crude sunflower oil. It has asked seasonal tariff rate quota of 100,000 tonnes be fixed per month during local harvest (October to January) and 250,000 tonnes per month for the rest of the months. 
David noted that the country had become a dumping ground for edible oil. Hence, anything above the quota must be imported under the highest duty rates to protect the domestic growers and processors. 
In all, the industry expects a record crop high this year owing to the early onset of monsoon. However, it is the weather that will decide the output of the soybean.