Following the rigid lockdown, the farmers and the agriculture sector faced its worst hit. Although certain exemptions and relaxations were set nonetheless, farmers faced losses as they couldn't sell their produce.
It is still important to follow the set of guidelines to maintain lockdown decorum.
Lockdown Exemptions
The importance of farmers welfare and food supply chains across the country, few relaxations were allowed during the lockdown. Accordingly, this will primarily focus on the agricultural and allied sectors. Thus, it is inclusive of the following sectors:
Veterinary hospitals.
Agricultural products procurement agencies.
Mandis working under Agriculture Produce Market Committee.
Cultivation by farmers and thus farmworkers face relaxation.
Custom Hiring Centres (CHC) for farm machinery.
Fertilizers, Pesticides, and seeds (manufacturers and packagers).
Harvest and post-harvest necessities will have access to intra and inter-state movements.
A complete guidebook is given to the ministries of state and UTs outlining the directions of the implementation process.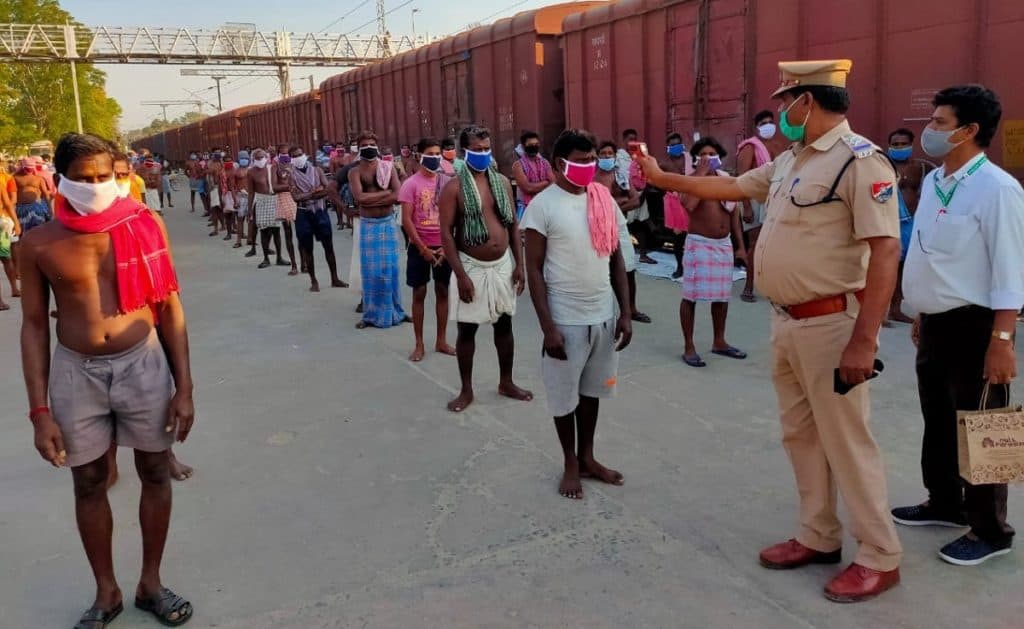 Considering the impact of the deadly virus, it is important for farmers to follow the set rules and regulations
Guidelines to Follow During Harvesting and Threshing of Crops
Social distancing and personal hygiene must be followed at all times, especially while sowing and harvesting.
Accomplish any task with at least 4-5 feet apart.
Always wear protective masks. Also, wash hands at regular intervals.
Strategies to follow staggered farm operations as well as engage a fewer number of people in the farm activities.
Avoid new recruitment if necessary, a thorough questioner regarding the health status is mandatory.
Prioritize machinery operation over manual labourers. Also, sanitize the equipment whenever possible.
Proper harvesting work with less crowding or no crowding.
Guidelines for Post Harvesting, Storage and Marketing operations
Mask is mandatory while performing threshing, winnowing, cleaning, grading, sorting, and packaging.
Dry properly before storing the grains, millets, pulses and so on. Also, use treated gunnies after soaking it in 5% neem solution.
Ensure proper storage using the jute bags.
Maintain personal safety and hygiene while participating in loading, transportation, and market sale.
Seed processors should possess the necessary documents at all times during transport of seeds to companies,
A Requirement- Farmer's exemption from lockdown and setting Necessary guidelines
With Rabi harvest approaching in the northern states, the farmers have to get back to work amid lockdown. For instance, Mustard, the second most crucial rabi crop that requires manual harvesting and without migrant labourers that becomes a problem. Also, lentil, maize, and chillies follow closely.
Additionally, its sugarcane peak season and it also requires manual planting in the north. Thus, in this peak harvest season, farmers tend to sideline the global criticality. Hence, to keep both in check that is farmer's welfare and lockdown, the government sets the parameters.
The status of the Field crops
Owing to the unlikely rains, some farmers delayed their crop harvest. In the case of horticulture, mango is due at the fruiting phase. Thereby, farmers are taking adequate precautions to prevent the spread of infection. Also, for rice fallows, the cultivators must adapt whitefly management to avoid yellow mosaic virus incidence.
It is important to follow the guidelines set by the Ministry of Home Affairs to ensure our safety and fight the pandemic.