The Indian government promotes the domestic production of oilseeds to cut the country's import dependence: crop diversification and agriculture incentives required to limit the import of palm oil to India. 
Need to Limit Import of Palm Oil
Indian government encourages farmers to increase the area under cultivation of oilseeds to reduce dependence on imported palm oil. Currently, 70% of India's demand for edible oil is met by imported oil. It introduces the majority of palm oil from Indonesia, Malaysia, and relies on Argentina, Brazil, Ukraine, and Russia for soybean and sunflower oil. The country has a requirement of 25 million tonnes of edible oil. There is a need to increase the local production from 7.5 million tonnes to 12 million tonnes to bring down imports to at least 45% of the consumption basket. India resumed the purchase of palm oil from Malaysia after a four-month break amid diplomatic tensions.
Potential of Palm Oil Production in India
Indian loses around Rs 70,000 crore per annum by way of import of palm oil alone. Currently, it produces 100 lakh tons of edible oil in 250 lakh hectares. Even if 50% of this converts to palm oil cultivation, it can produce seven times of the oil being delivered now. Palm cultivation has enormous potential as one hectare under it can give around 4000 kg oil as against 500 kg of fuel in case of sunflower, coconut, and rice bran. However, palm cultivation is a three year procedure and gives output in the fourth year. Hence, farmers must take up the intercrop pattern to get respite until the crop matures. Besides, the plant won't do well in areas of a long dry spell as it is a rain-fed crop and requires small regular irrigation.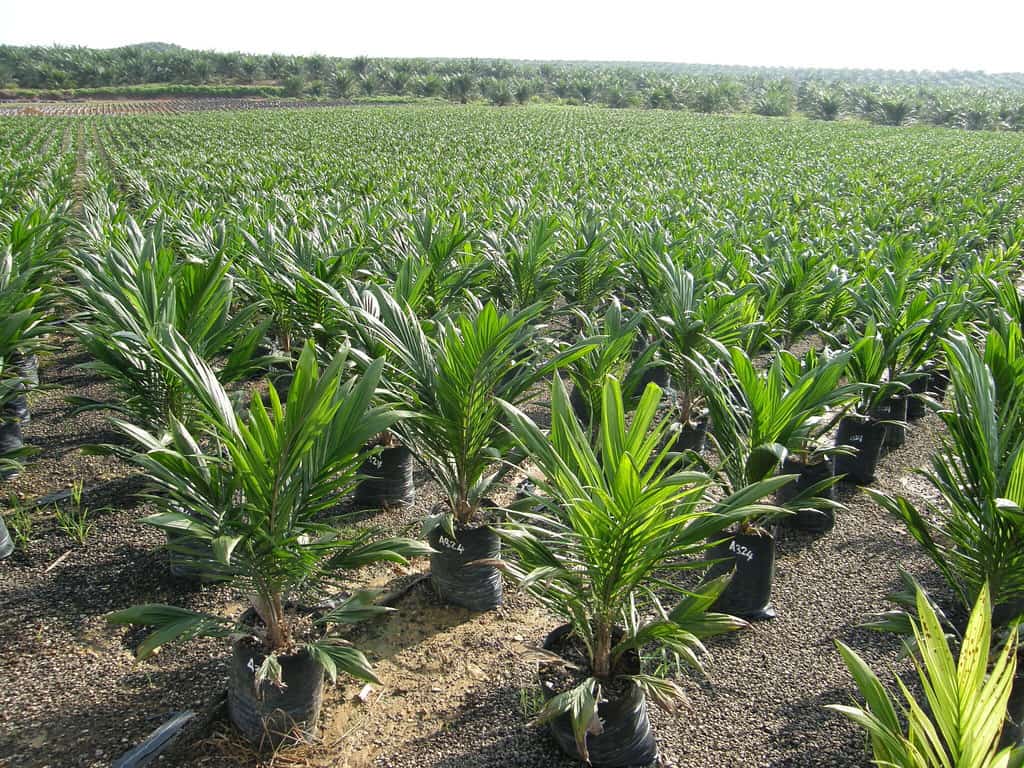 Dr Mohd Khairuddin minister Plantation Industries and Commodities reports that the Telangana government is trying to gain help from Malaysia through the transfer of technology in palm plantation management. Also, the state has expressed interest in planting bamboo as Malaysia is one of the best cultivators of the bamboo. Further, he added that several technical visits would take place to strengthen the cooperation between the countries once the pandemic ends.
Atma Nirbhar Bharat and Palm Oil
Currently, Marine products have the highest share in the agri-export basket, and rice is on second. Following that are spices, buffalo meat, sugar, tea and coffee, fresh fruits and vegetables, and cotton. The list gives a sense of 'revealed comparative advantage'. But, sugar and rice are quite subsidized, including high subsidies on fertilizers and power.
However, another thing which is taking place at the same time is the virtual export of water. Reason being 1 kg of sugar requires around 2000 litres of water while per kg of rice needs 3,500-5,000 litres of water. Further, increases the pressure on scarce water resources along with incomplete use of fertilizers by plants as it either evaporates or leaches into groundwater. But what happens when incentives are provided to boost high-value agri-produce. And palm oil is where the real potential lies in. With two million hectares of suitable land for palm cultivation, India can become Atma Nirbhar in agriculture.
Effect on Environment
The expansion of palm oil cultivation has given rise to deforestation at unprecedented levels. Due to diminishing forests, species like the Sumatran tiger and Javan rhinoceros have come on the verge of extinction. The deliberate burning of forests for land clearance causes problems. Not only for people and ecology but have a drastic effect on the global climate.
 Over 96% of its palm oil it consumes from Indonesia and Malaysia. The imports have risen at an average of 12% from 2005-06 to 2105-16. Though the Indian government started Oil Palm Development Programme in the early 1990s, its development is still sluggish. The cultivation takes place in coastal areas of Andhra Pradesh, Telengana, Karnataka, and Tamil Nadu. The government launched the National Mission on Oilseeds and Oil Palm in 2012. The project focused on palm oil plantations in watersheds and wastelands. Allying the fears of deforestation, several companies have collaborated with the government since then. They are cultivating palm on degraded land (previously used for water-hungry crops like rice or cotton).
In all, the coronavirus pandemic has highlighted the need for India to be more self-sufficient and save foreign exchange by increasing palm oil cultivation.