To ease the financial burden of Marketing on MSMEs, the Government initiated Procurement and Marketing Support Scheme (P&MS). Accordingly, the lack of information and utilities along with cluttered means of marketing, the sector further dwells into chaos. As a result, it requires a humongous effort to retain the prevailing markets and to explore new markets. Considering the significance of Marketing in the progression of the MSME sector.
Strives to attain via Procurement and Marketing scheme
The chief objectives set by the scheme are as follows:
Initiating new market prospects by creating market access via exhibitions and fairs
Emphasizing the significance of the MSME sector (production, packaging, marketing, shipment, and export procedure) in the developing country
Creating awareness regarding the advanced technologies and equipment
Highlighting the importance of the e- portals in the MSME sector
Organize seminars to shed light upon the marketability and procurement of services and products.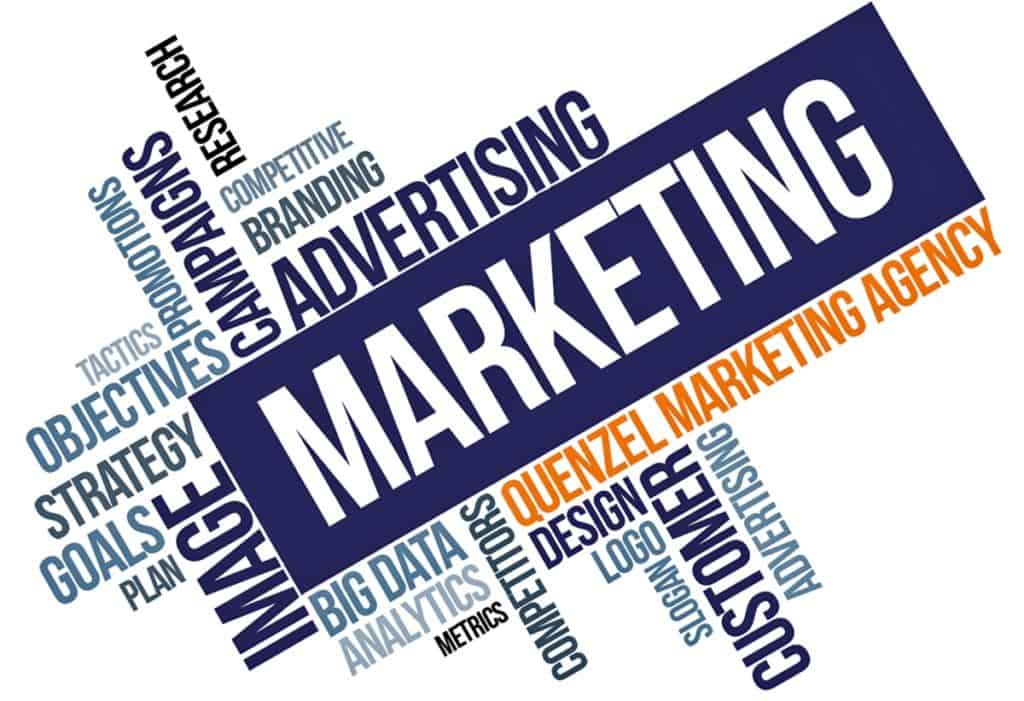 Activities monitored by the scheme
Concerning the goals set, the scheme focuses on the following activities:
Exploring new markets globally while procuring domestic markets
Consequently, facilitates the occurrence Public Procurement Policy for MSMEs Order of 2012 by securing international market linkages
Additionally, conducts business development training and workshops
Encourage participation in overseas fairs as well as local fairs and trade meets.
Eligibility For Procurement and Marketing Scheme
As cited earlier, the scheme was initiated bearing in mind the prosperity of the MSME sector. Thus, all MSME units are eligible. Additionally, industries in association with MSME are eligible beneficiaries for the scheme with certain condition criteria to satisfy. Further, the said units must register on Udyog Aadhar Portal (UAP).
Nature of Assistance
The scale of aid is similar to the Marketing assistance scheme. Accordingly, the same is depicted hereon:
A: Exhibition Participation in India 
Space rent: 80% of the total cost for the general category. However, special categories such as Sc/ST, women, NER, PH units will get 100% reimbursement. Nonetheless, the limit is Rs 30,000.
Exigence expenditure: All units irrespective of a category will get 100% compensation. Nevertheless, the maximum compensation is Rs 15,000.
Maximum Support: For events in metro cities maximum Rs 1.50 lacs or actual cost whichever is lesser. B Class city events maximum support of Rs 1 lac or actual cost whichever is lesser.
Note that, each unit can attain two events per year under the scheme.
Also, the applicant shall be eligible for reimbursement if requested, by claiming online in the prescribed format within a month of the event occurrence.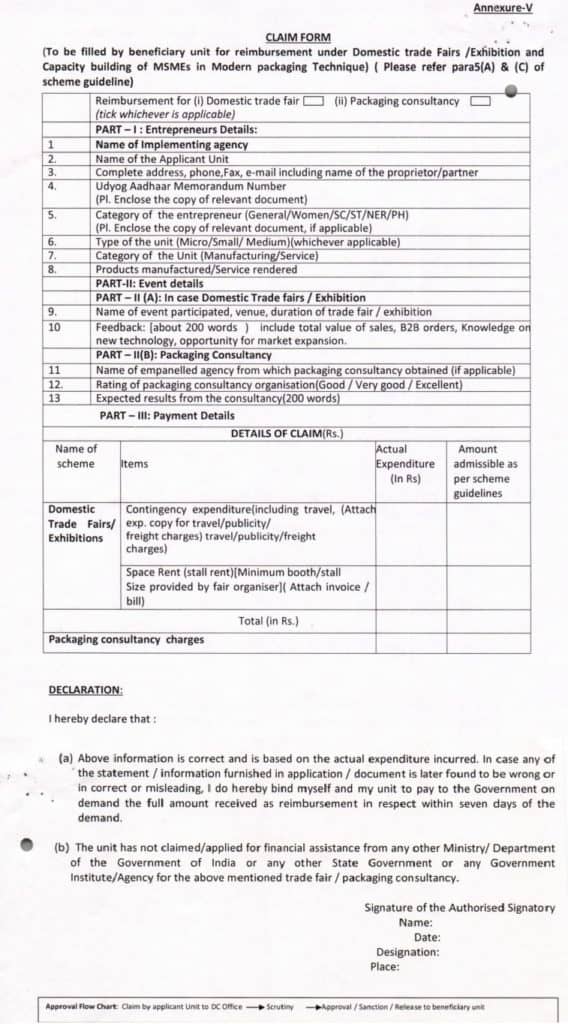 B: Organizing a trade meet by MSME Ministry, DC office or government organizations
Space charges: Varying on regional, national, or international fairs the reimbursement will be Rs 15 lakh, 25 lakh or 40 lakhs respectively. Further, establishments participating will be offered 80% (General category) and 100% (Special category) subsidy. 
Advertisement costs: A maximum of Rs 25,000 will be provided in this case
Also, if the cost exceeds that given amount, the sanction of the Empowered Committee is mandatory.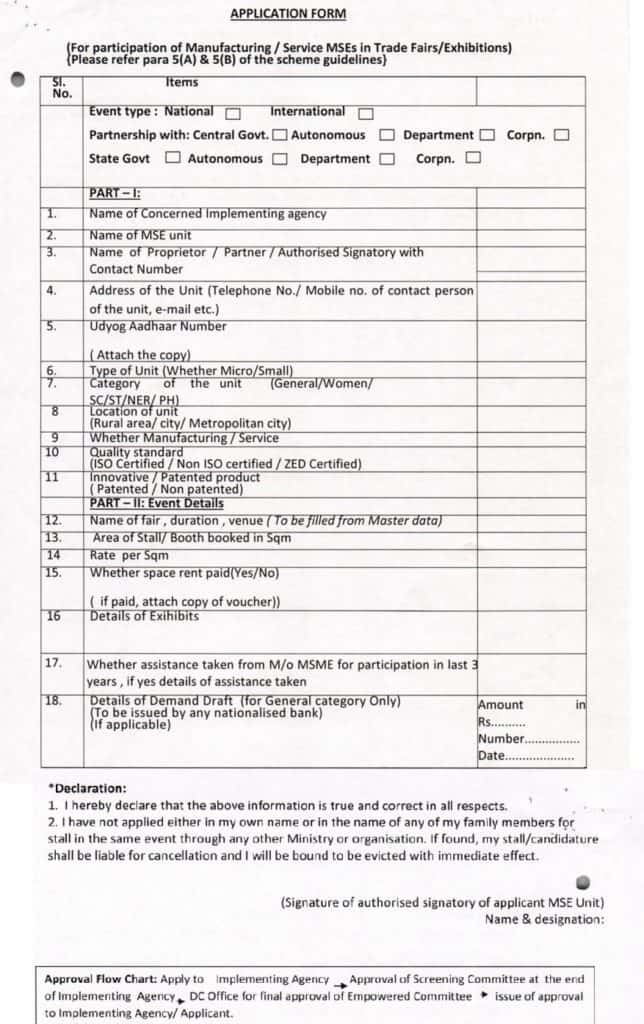 C: For MSMEs with Modern Packaging Practices  
80% (General category) and 100% (Special category) subsidy for unit-based interventions for explicit packaging supplies. Cost budget for ordinary packing consultancy limits to Rs 1,00,000 and Rs 1,50,000 for green packaging consultancy inclusive of taxes.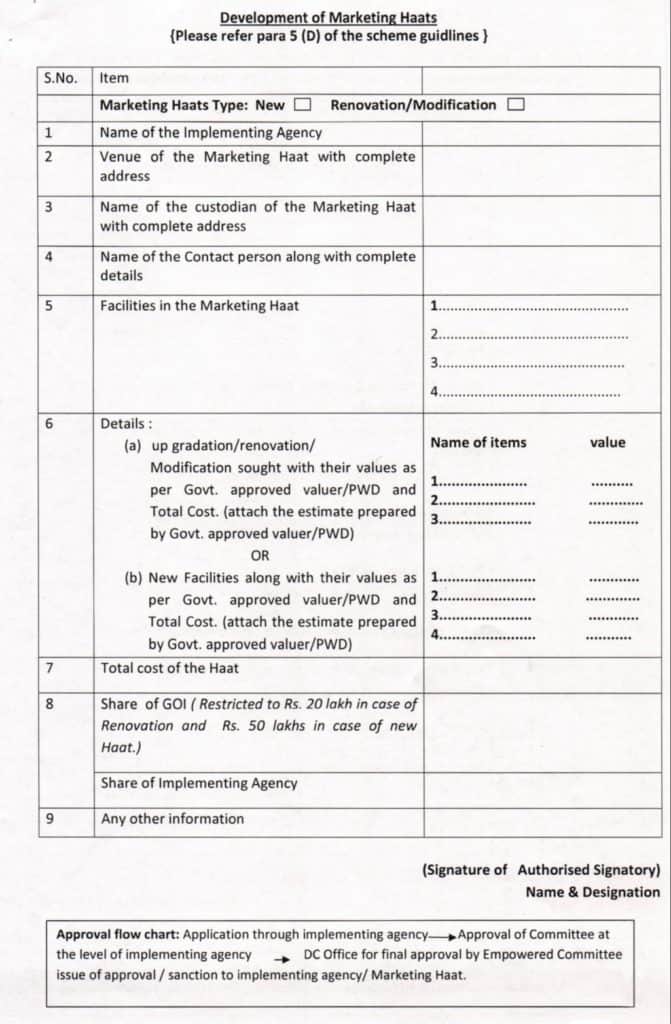 D: Expansion of Marketing Haats
This encompasses initial groundwork, upgradation, renovation of the unit. Following the estimate, an amount will be sanctioned that will limit to Rs 50 lakhs subject to 50% contribution by the unit. Moreover, this requires approval from the Competent officials. Further, the selection is by implementing an agency comprising a committee. Thus, will consist of director MSME-DI as the Chairman.
E: Vendor Development Program 
Regional level vendor: Rs 100,000 per event for one day or actual cost whatever is less.
National level vendor: Maximum sanctioned amount for A class cities stands at Rs 10 Lacs or actual cost whatever is less. For other cities maximum amount is at Rs 7 lakhs or actual cost whatever is leseer per event.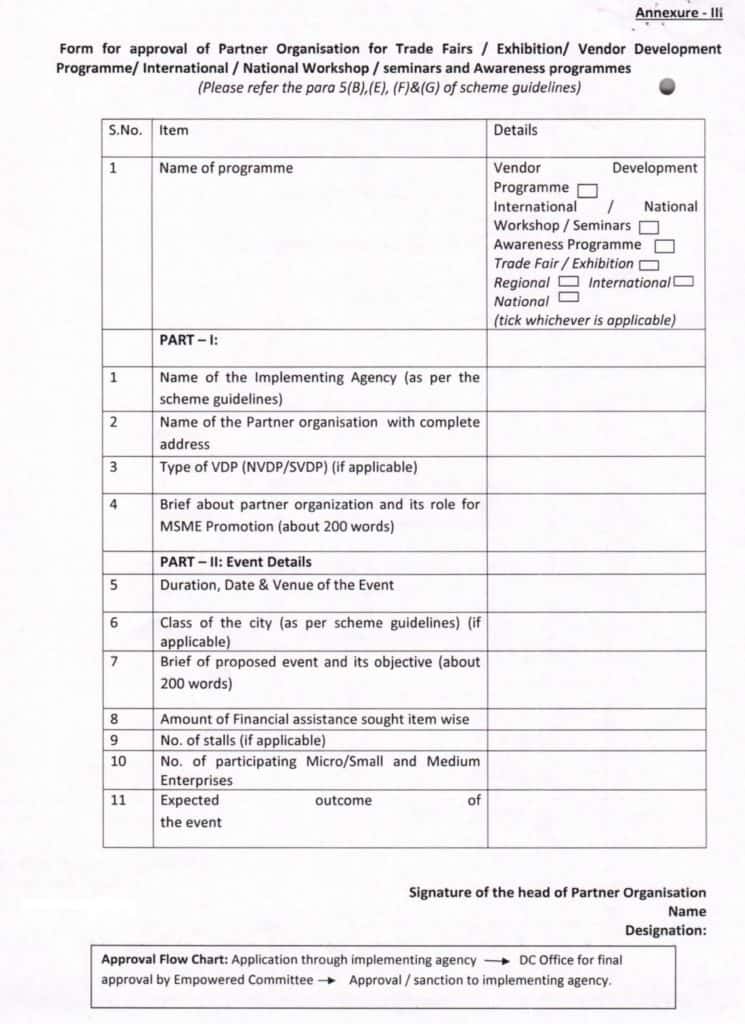 F: Seminars and workshops (national and international)
For National Seminars or workshops maximum assistance of 5 lakhs or actual cost per event. Assistance of 2.5 lakhs maximum or actual for additional charges such as airfare, accommodation, travel, etc., for seminars. However, the participants must exceed over 30 in number. In addition, assistance is valid for government or non government reputed organizations that have at least 3 years of experience in organizing the workshop/seminar.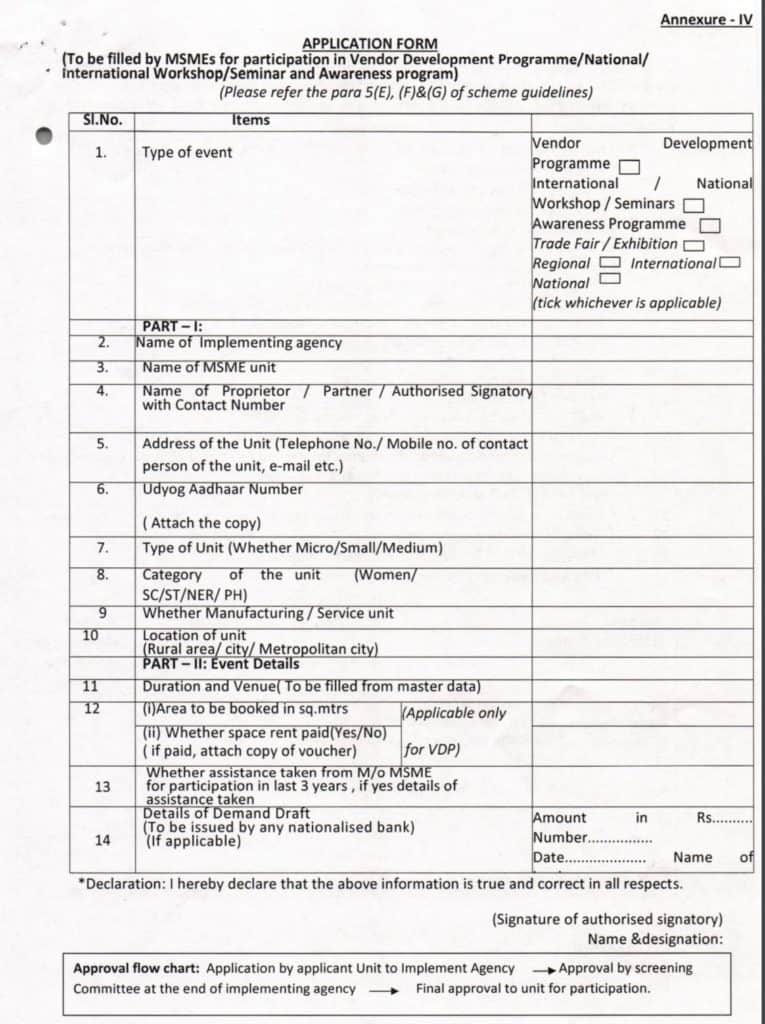 G: Awareness Programs
For awareness programs maximum assistance of Rs 70,000 per day will be allocated. However, the participants must exceed over 30 in number.
Note: The empowered committee will be in charge of the final call for a proposal approval. Furthermore, it is headed by AS and DC with JS of MSME. Subsequently, ADC, JDC, NSIC, a nominee of IFW act as supporting agencies.
Applying protocol
This is either by applying online or personally applying in a prescribed manner. However, only eligible candidate's application shall be issued.
Contact:
Joint Development Commissioner,
O/o DC, MSME
Nirman Bhawan, New Delhi
Tel.: 011- 23061091
Email: mandeepkaur@ias.nic.in