A recent report by APEDA suggests that India is highly likely to attain export target USD 60 billion by the year 2022. Owing to the agriculture export policy that improved connections between the Ministry of Commerce and the Ministry of Agriculture.
Factors Contributing to the Increase in Export of Agriculture Products
The government initiated the new policy to boost agriculture production as well as increase trade of Agri-produce. Under this act, the Ministry of Commerce, Ministry of Agriculture, Ministry of Animal Husbandry, Ministry of Food Processing Industries along with several agencies contributed to enhancing agricultural export.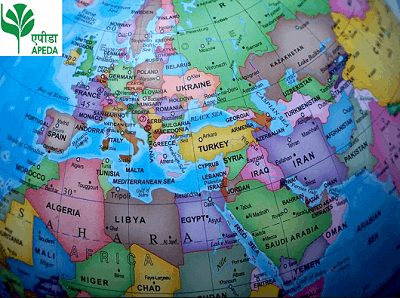 That apart, APEDA solely focuses on facilitating India's Agriculture Exports. Accordingly, helps to showcase India's produce to the international market alongside promotes the shipment of quality agricultural merchandise. Several market accesses have been obtained, for instance, Mango in Canada, Mauritius, European Union, South Korea and Chile. Additionally, it collaborated with Nurnberg Messe India to Organise "The Biofach India", an event serving as a platform to exhibit over 200 varieties of Indian organic food.
Increase in Export of Organic Products
A spike of 49% has been noted in the export of organic products. That is, in the year 2017-18 the export was worth Rs 3453 crore which has increased to Rs 5151 in 2018-19. On the other hand, the organic agricultural product is worth Rs 8500 in the global market. A graphical representational by APEDA showed the gradual export growth of India from 0.6 USD billion in 1986 to 18.6 USD billion in 2018. Further, it predicted a rise by USD 30 billion and USD 50 billion in 2022 and 2025 respectively.
Additional Promotional Activities Planned by APEDA
As the groundwork, it focuses to improve the quality of the produce. Subsequently, it aims to focus on the development of export market and export infrastructure. Further urges, government to take part in the promotional, developmental measures. In one such case, advised the government to set up a monitoring committee to manage export.
APEDA's GM Tarun Bajaj emphasized that enduring the collaboration between the Departments and utilizing the cohesive techniques will double the India's agriculture export from the current USD 38 billion to USD 60 billion in the consecutive years.
Considering the current scenario of the global market, attaining the said target seems complicated. Especially when there has been a decline of 1.1% in agriculture export. India's agriculture export products including meat, seafood and basmati rice declined significantly. Hopefully with government policies designed to promote agriculture export, India might achieve the target.