Haryana reported 355 new Coronavirus cases today. Total Coronavirus cases in Haryana now stand at 3952. Active cases as on date stand at 2648 as 71 COVID-19 patients were cured today.
As seen on the graph Coronavirus cases in Haryana have risen exponentially in the past couple of weeks. Experts suggest that Gurugram may be heading towards being the hotbed for COVID-19.
Haryana COVID-19 District Wise Report
Gurugram District remains the worst affected with over 1692 Coronavirus cases. Gurugram district has recently witnessed a spike in new cases with over 1000 cases being reported in the past 10 days. While Faridabad and Sonipat Districts confirmed a total of 620 and 350 positive cases respectively. All districts in Haryana have reported over 19 or more COVID-19 cases.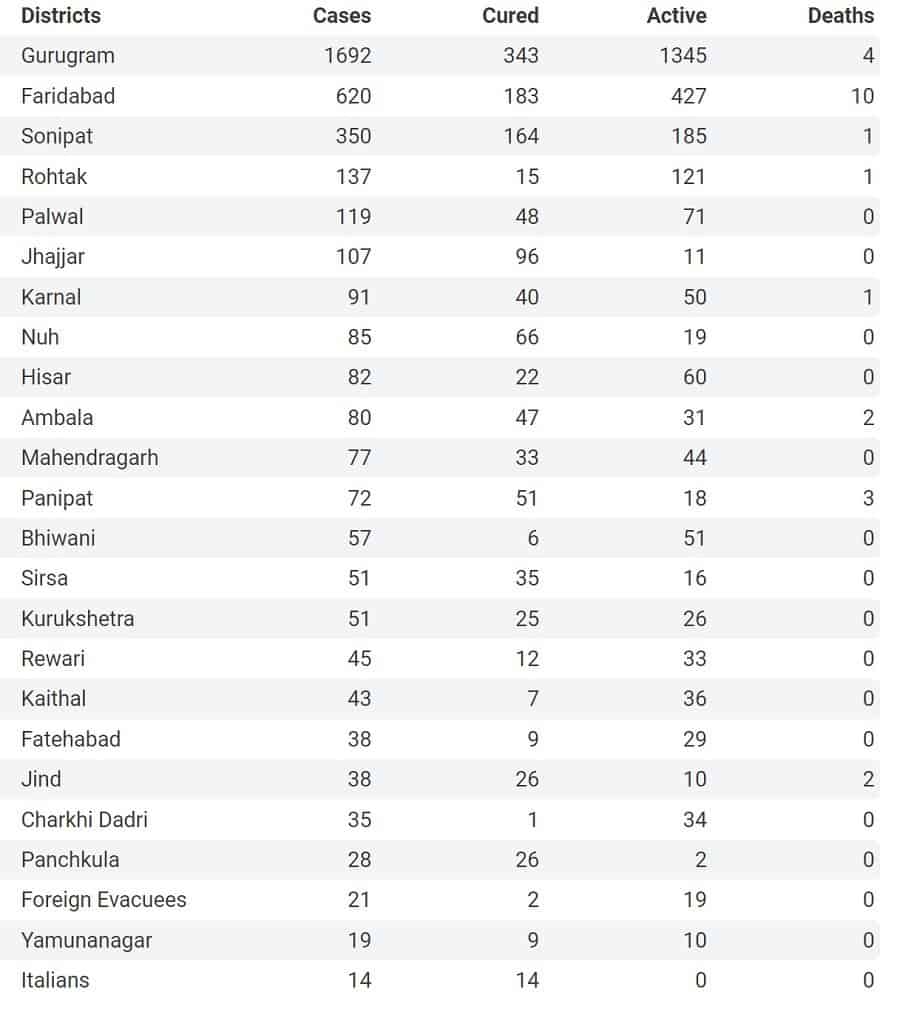 COVID-19 Testing
Total COVID-19 tests conducted in Haryana stand at 141688. Total tests conducted in the past 24 hours stand at 4236. On average the state is conducting 4000-4500 tests every day.
Death Rate and Cured Cases in Haryana
Mortality rate fell to 0.60%, which is way below the national average of 2.82%. Total recovered cases surged to 1280 while death toll stands at 24.
How Nuh District Beat COVID-19
An epicentre of Coronavirus cases in Haryana, Nuh district effectively managed to control the spread of COVID-19. Couple of weeks back Nuh district had the highest cases in Haryana but now has 8th-highest cases in the state. The district has reported 85 cases in total, of which, 66 have recovered or discharged.
The Deputy Commissioner of the district wrote to Supreme Court that it is a significant achievement for a district like Nuh. Further, he mentioned the efforts of the administration to educate people about the virus proved successful as that they could fearlessly report the symptoms. Besides, the administration also took care of necessary facilities like ration in this way Nuh district managed to contain the spread.
Haryana in Touch with Investors Looking to Exit China
To flourish the industrial side of the state, the Haryana government is in touch with investors looking to exit China. CM Khattar, in a webinar with around 100 representatives of MSMEs, assured that the government is with them in this crisis. Further, the state is planning to create windows in existing state policies to ensure quick setting up of manufacturing facilities. Also, he mentioned that Japan, America, Korea, Germany, Australia, Taiwan remain interested in investing in India.
Minorities and Police, Superfluous Victims
Haryana experienced over 19 attacks on minorities (mostly Muslims), while allegedly linking them to the spread of the infection. Similarly, over 89 people stand accused while only 28 people arrested. Panipat district home to the majority of such events with 72 accused and 13 arrested.
Curbing Fake news
Several narcissistic opportunists are spreading the news that benefits them. Also, this raises panic and confusion among the population. Acknowledging that, the Haryana police department is imposing stern actions on these rumor mongers.