Coronavirus cases in Uttar Pradesh crossed 10,000 with 370 new Coronavirus cases reported today. Total cases in UP jumped to 10103. Out of the total cases, 5908 have recovered and 268 patients have died. Active cases as on date stand at 3927.
Coronavirus Cases Growth Rate in the state stands at 4%
COVID-19 tests conducted as on June 05 stand at 3,44,717. Tests per million figure in the state increased to 1532. Testing has risen recently in UP as daily tests average at 10,000 to 12,000.
COVID-19 Death Rate and Cured Cases in Uttar Pradesh
Mortality rate stands at 2.65% compared to the national average of 2.82%. Total of Recovered cases increased to 5908 with 260 patients recovering today. Sadly, the death toll jumped to 268 as 11 COVID-19 patients succumbed to the virus.
Returning Migrants Cause Spike in New Cases
Several migrants returned to UP from Mumbai, Delhi and some other places by 'Shramik Specials' in the past one month are becoming a matter of concern for the state government. The number of cases has increased from 2328 on May 01 to 10,103 on June 06. Overall, the virus has affected all 75 out of 75 districts in the state. Though the migrants were screened before boarding the train and buses, even then many tested positive.
Agra's Medical Officer Removed Amid Rising Coronavirus Cases in the District
UP's state chief secretary, Amit Mohan Prasad ordered the transfer of Agra's Chief Medical Officer in the wake of rising cases. Agra at that time had reported over 764 coronavirus positive cases. It became the worst-hit district in the state with the highest number of fatalities and cases however since the sacking Agra reported just 175 COVID-19 cases.
Uttar Pradesh COVID-19 District Wise Report
Agra District remains the worst affected with over 939 Coronavirus cases. While Gautam Budh Nagar and Meerut Districts host over 623 and 502 positive cases respectively. All districts in Uttar Pradesh have had 3 or more COVID-19 cases.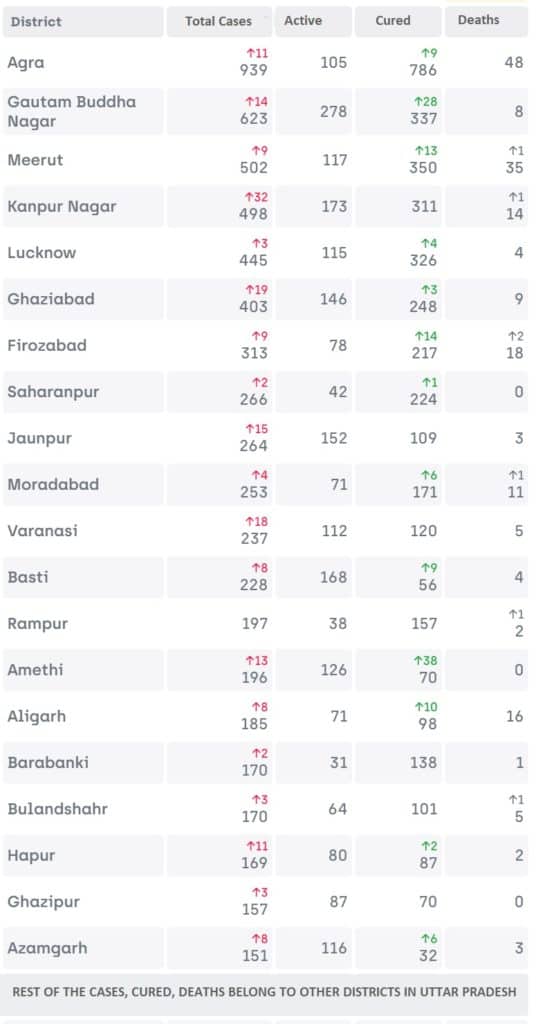 Relief Measures 
Every daily wager will receive relief benefits of approximately Rs 1000 through DBT. Also, the farmers are being provided with enough attention to ensure a smooth time during the lockdown. Further, CM ensures to help every wager that is hurt by the coronavirus.
Sealing Hotspots
UP is taking extreme measures like arresting more than 50000 people for violating lockdown rules. Further, CM ordered to seal all the hotspots in the state. Also, the state will cover 1.4 lakh houses from 10 lakh, where positive cases have been reported.