Ministry of Food, Bangladesh has has solicited international sellers to present their bids by 6th of October 2019. Bangladesh issued tender to purchase 50000 Tons of Wheat.
Tender Details
The Directorate of General Food (DGF) said that the wheat could be of any origin except that of Israel. It expects 12.5% optional origin wheat.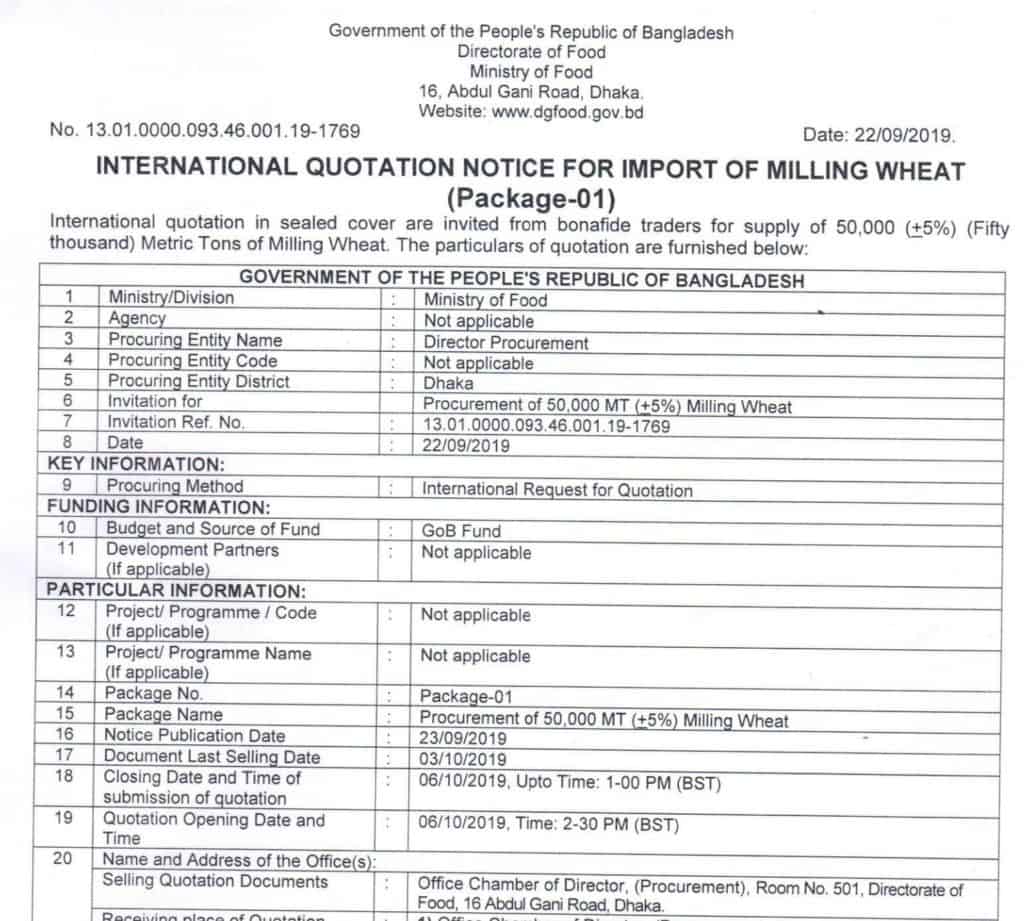 Click here to get complete details of the tender
3rd October 2019: Last date to submit bids by 3rd October.
06th October 2019: The offers would be valid until this date.
Shipment Terms
Cost, Insurance and Freight (CIF) policy including stevedore and overside handling will be on sellers account. The seller is required to bear the cost of any damage caused to product while it is unloaded at the destined port. In other words, the seller is responsible for the freight until it reaches the port.
About 60% of the shipments are to the port of Chittagong and 40% for port of Mongla.
The shipments are expected 40 days after the contract is signed.
Bangladesh Purchased 100000 tonnes of Wheat earlier this year
In an interstate deal which ended on 30th July, Bangladesh issued tender to purchase 100000 Tons of wheat from Russia.  The DGF offered an average price of $267.30 per mt to Prodintorg Company, through which it imported wheat.
India's Wheat Exports Declined in recent Times
Bangladesh looked for new markets to import wheat when supplies from India reduced. In 2010, Bangladesh issued a tender of 3,00,000 tonnes of wheat. The Food Corporation of India was requested to supply about 2,00,000 tonnes of wheat. However, both the countries were unable to reach agreeable shipping terms and Bangladesh started to explore new markets ever since. Moreover, India's wheat supplies have diminished in recent years, thereby affecting the exports.
Bangladesh is expected to buy about 6.3 Million Tonnes of wheat this financial year as its current stock of wheat is expected to be just 1.15 Million Tonnes.