Huge relief to farmers after 12000 crores disbursed to 6 crore farmers under PM-Kisan after rural employment opportunities fell to lowest level in India. The implementation of PM Samman Kisan Nidhi Yojna is a success in providing direct income support to farmers. With rural unemployment at highest level due to sluggish economy,
 Disbursement Under PM-Kisan
The action is in line with the government's vision of doubling the income of farmers by 2022. The government has deposited the third installment of Rs 2000 directly in accounts of beneficiaries. While appreciating the farmers, PM stated that a total of Rs 12000 crore deposited under the third tranche. This covers around six crore farmers. Besides, he also mentioned distributing certificates to beneficiaries under the Scheme from eight states. He further urged that states must rise above the politics and coordinate with the center to provide services to farmers.
 The PM-Kisan Scheme
Launched on February 1, 2019, the scheme aims to provide direct income support by depositing Rs 2000 every four months in the account of the farmer family. Along with this new policy, the government also tweaked some existing schemes to handle the agriculture problems. Farmers can register themselves on the website worked by the government and can also approach the local revenue officer to enroll for the service. The scheme eliminates farmers who are or were holders of constitutional posts. A total of 9.01 crore landholders were registered till 30 November 2019. However, it is not clear whether farmers use the amount for agricultural purposes or not.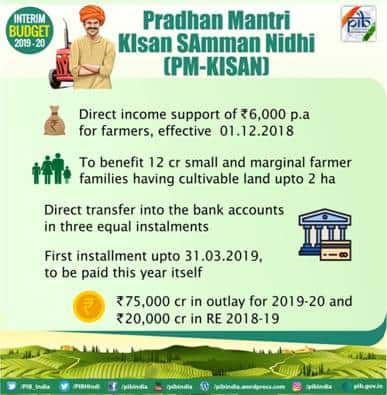 Other Efforts
PM Modi highlighted the government's efforts in the agriculture sector by mentioning the increase in production and export of spices since the initiation of the second term of the government. Besides, he affirmed providing the facility of Kisan Credit Card to fisheries that will help to improve the blue revolution in the country. The government has also launched various schemes like eNam and PM-AASHA to increase farmers income.
In all, the government is on a trail to provide fair share to the toiling farmers of India. PM-Kisan seems like a success to help farmers in India.