Farmers in Bihar have not yet received payments under Pradhan Mantri Kisan Samman Yojana (PM-Kisan). The scheme was announced on 1st Decmber 2018 during the Interim Union Budget of India.
Pradhan Mantri Kissan Samman Yojna
PMKSY or PM-Kisan, central government funded scheme, to provide farmers financial assistance of INR 6000 every year. Under the scheme, small and marginal farmers receive three equal instalments. To qualify under PM-Kisan, farmer and their family combined land holding should not exceed 2 hectares. The payments are to be directly credited into farmers account.
More than Half of the Farmers Yet to Receive Payments
Agricultural Minister of Bihar, Prem Kumar said that,"64.31 lakh farmers applied for the scheme. Out of which 34.41 lakh farmers were provided their first instalment of INR 2000."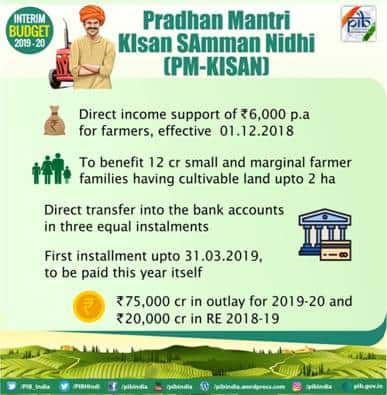 Number of farmers who availed the second instalments sharply decreased to 26.08 lakh. The beneficiaries further decreased to only 5.50 lakh farmers for the third instalment. Farmers yet to register under the scheme can click here to register.
The minister confirmed that, "Till date, INR 1,318.61 crore have been distributed to farmers in Bihar under PM-Kisan".
Pending Applications
Bihar's deputy Chief Minister Sushil Kumar Modi, accepted that many applications are pending. Over 7.73 lakh farmers under the scheme were pending after the central government returned their applications. In addition, 9.32 lakh applications are pending at local level. Check the beneficiary status by clicking here.
Since April 2019, many farmers in Bihar are waiting payments under PM-Kisan. There are many farmers in states like Bihar who do not have official ownership of their land. Therefore, landless farmers in official books are unable to take benefit of PM-Kisan.
Generally in India the government struggles to introduce scheme using technology. In conclusion, officials confirmed that efforts are being made to clear payments before end of the year.