As expected Finance Minister, Nirmala Sitharaman, announced key relief measures during coronavirus pandemic. The government of India makes efforts to beat the deadly Coronavirus financial disruptions on economy and citizens of India.
Date Extensions  
In a press conference, Finance Minister Nirmala Sitharaman announced several relief measures for businesses and taxpayers. She announced that the last date for filing income tax return for the financial year 2018-19 extended to June 30. Further, the last date for linking Aadhaar with Permanent Account Number (PAN) has been extended to 30th June. In addition, the government waived charges on cash withdrawals from ATMs for three months. Besides, the government has decided to extend the last date for filing GST returns for March, April, and May to 30th June. Further, the Vivad se Vishwas scheme is put off till 30th June and hence beneficiaries need not pay the 10% interest on the principal amount.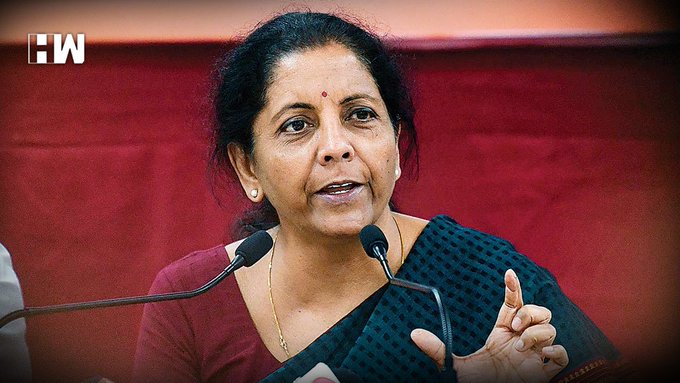 IBC Related Relief Measures
Nirmala Sitharaman announced that the bank account holders won't be penalized for maintaining minimum balance. This rule is applicable for the next three months. Further, the government has increased the threshold from Rs 1 lakh to Rs 1 crore for default companies under the Insolvency and Bankruptcy Code (IBC). Moreover, Finance Minister said that if the same situation persists beyond 30th April then the government may suspend Sections 7, 9 and 10 of IBS for six months.
Watch on Financial Markets 
Nirmala Sitharaman confirmed that there won't be any late fee and penalty for companies with turnover less than Rs 5 crores for delay in returns . Also, the government has granted six more months for newly formed companies to file the commencement of business reports. However, there's been no extension for the last date of payment of TDS (only decrease in interest rate to 9%). On financial markets, she said that the RBI and SEBI are together working on maintaining stability in the stock market. Also, SEBI has come up with certain guidelines to minimize the volatility in stock markets. Applicability of Companies Auditors' Report Order 2020 is now in FY2020-21. Sitharaman said that she will soon announce the economic package.
MS Mani, Partner, Deloitte India stated that the extension in return filing would let businesses focus on resumption once the situation normalizes.
In all, government making efforts to tackle adverse financial impact of coronavirus in addition with flattening the curve of Covid-19.