COVAXIN Vaccine Price Announced by Bharat Biotech After Government Directive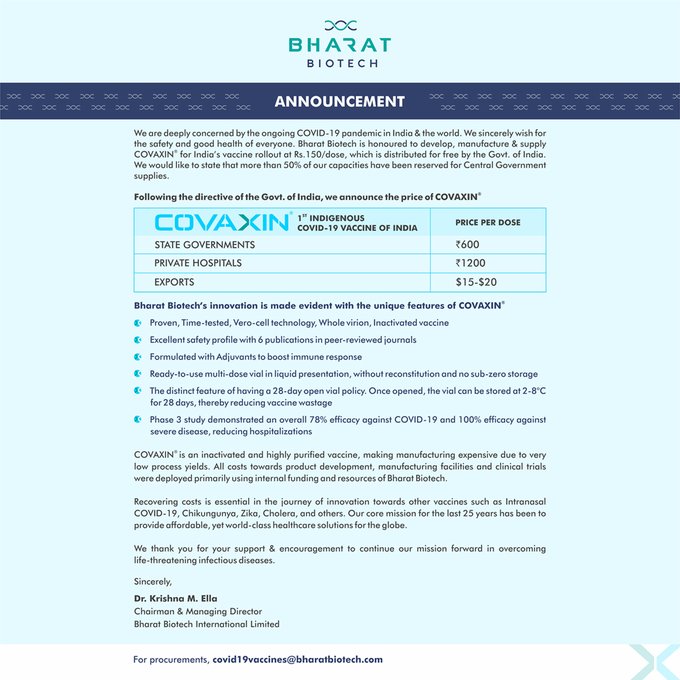 India Fastest Country to Administer 140 Million COVID-19 Vaccine Doses
Union Health Ministry confirmed that India became the fastest country to administer 14 crore doses of COVID-19 Vaccine in just 99 days.
Indian Railways Carries and Delivers 150 MT of Oxygen in 24 Hours
Ministry of Railways confirmed that the Oxygen Expresses delivered nearly 150 tonnes of Oxygen in the last 24 hrs. Further, more trains will be assigned for the same in the coming days.
Four Cryogenic Oxygen Containers Arrive From Singapore
Ministry of Home Affairs confirmed that four cryogenic oxygen containers arrived in India at Panagarh airbase in West Bengal from Singapore. The high-capacity oxygen tankers were airlifted in an IAF C17 aircraft from Changi Airport in Singapore earlier today.
Base Hospital at Delhi Cantt Converted into COVID-19 Dedicated Hospital
The Indian Army confirmed that the base hospital has been converted into a dedicated COVID-19 hospital. It has also enhanced its bed capacity by more than 200%. Further, the number of beds with oxygen support has been doubled in record time.
Basic Custom and Health Cess Waived Off on Oxygen Cylinders and Oxygen Related Equipments
PM Modi chaired a high-level meeting and announced exemption of basic customs duty and health cess on oxygen cylinder and equipment. Read More
Political Rallies Go Virtual After Public Backlash
CM Kejriwal Requests all CMs to Provide Oxygen to Delhi
Five Patients Die Due to Oxygen Shortage at Neelkanth Hospital, Amritsar
MD of Neelkanth hospital stated that five COVID-19 patients died at the hospital. Further, he confirmed that the hospital is facing an oxygen shortage for the last 48 hours. The administration is saying that oxygen will not be given to private hospitals before government hospitals.
384 People Rescued, 8 Still Missing and 10 Bodies Recovered after the Uttarakhand Avalanche
The Indian Army confirmed 384 people have been rescued. Further 10 bodies have been recovered and 8 people are still missing.
Punjab CM Orders Shutdown of Iron and Steel Industries in the State
Capt Amarinder Singh ordered a complete shutdown of operations of iron and steel industries in the state. This move will divert Oxygen for medical use and help tackle the oxygen shortage in the state.
Batra Hospital Still Struggling With Oxygen Shortage After Moving High Court Yesterday
Dr Gupta at the Batra Hospital said that the Delhi Government did provide the hospital with an oxygen tanker of 500 litres but they only have one and a half hours of oxygen left for their 260 patients. The daily requirement at the hospital is of 8000 litres of Oxygen.
Serum Institute Confirms INR 600 Per Dose Price Fixed for COVISHIELD Vaccine Amid Confusion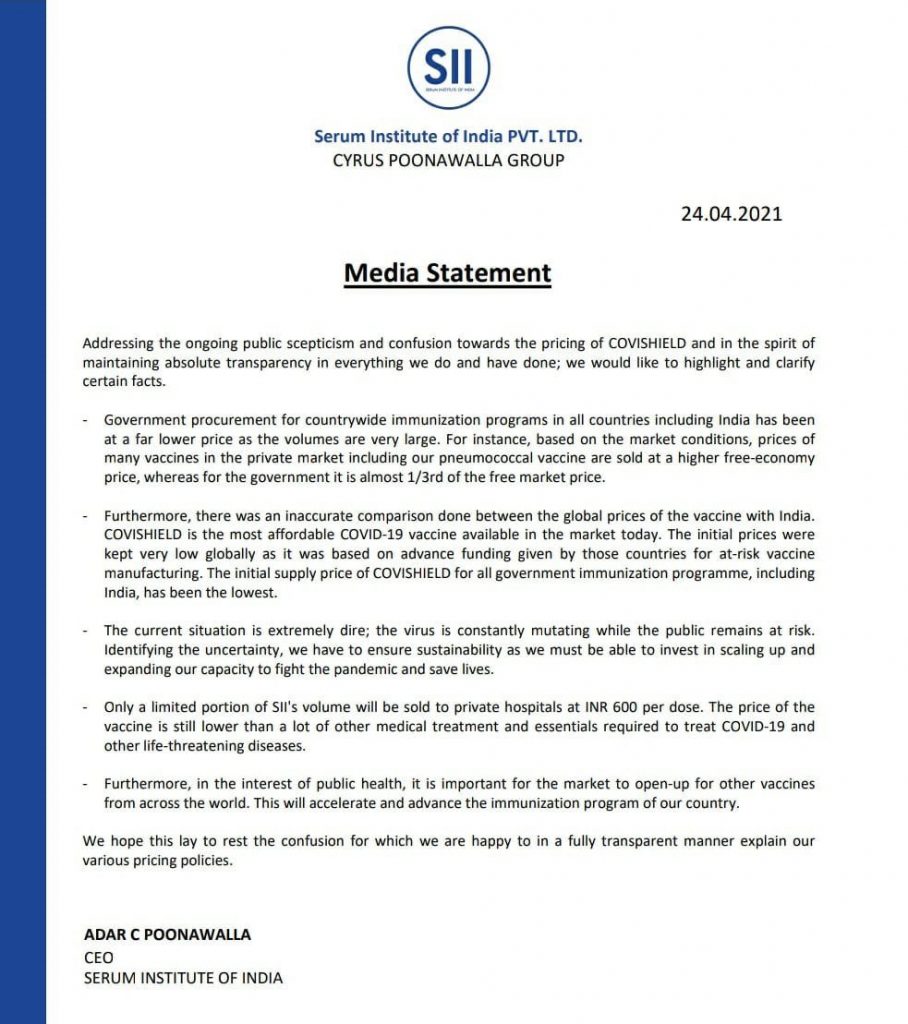 Saroj Hospital, AIIMS, and Many Other Hospitals in Delhi Closed New Admissions Due to Oxygen Shortage
Many hospitals in Delhi closed new admissions of patients due to oxygen shortage. Although, the move was temporary after hospitals received oxygen supply.
What are the Symptoms of New COVID-19 Variant and When One Should Get Tested
Australia PM Scott Morrison Conveys Message to PM Modi
Australia stands with our friends in India as it manages a difficult second COVID-19 wave. We know how strong and resilient the Indian nation is. PM Narendra Modi and I will keep working in partnership on this global challenge.
Pakistan PM Expresses Solidarity With India
Pakistan PM Imran Khan expressed solidarity with the people of India as the battle with COVID-19 second wave continues. He further stated that "our prayers for a speedy recovery go to all those suffering from the pandemic in our neighbourhood and world. We must fight this global challenge confronting humanity together."