According to a report by WTO, India can become the top five agriculture goods exporters in the world. Recent government reforms in the farm sector to help boost agricultural exports.
Top Five Agriculture Goods Exporter
The WTO reports revealed that India might become the world's fifth-largest exporter of agricultural commodities, surpassing Thailand and Indonesia. India currently claims the eighth position having exported goods worth USD 39 billion in 2019. Further, the report quoted the World Trade Centre's data revealing the top agro-export of USD 181 billion of EU followed by exports of USD 172 billion of the USA.
Role of Krishi Vigyan Kendra's and Need to Meet the Quality Standards
The report further said that to achieve this, the government needs to focus on the re-orienting role of its extension centres. It added that the 715 Krishi Vigyan Kendras across the country must work towards enhancing the growth of crops that are in demand in global markets. Also, these should educate farmers on the prudential use of pesticides and other chemicals to eliminate the rejection of Indian consignments. Not only this, but it should create awareness about developing horticulture crops. Further, it added that now is the time to move on from self-sufficiency and provide quality agro-exports across the globe.
Highlighting the problems of low exports, the report pointed to India's share of less than 1.8% in global agricultural exports. Despite being the largest producer of papayas, lemons, and limes, India meets only 3.2% of the world papaya demand, 0.5% for lemons and limes. However, the country has outperformed in exports of capsicum chilly, castor oil, tobacco extracts, and sweet biscuits. That apart, the country has well established in the export market of basmati rice, meat, and marine products.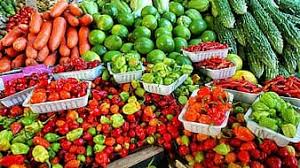 Rs 700 crore ADB-Funded Project 
Considering the growing demand for fruits and vegetables, the Maharashtra government has approved the Rs 1,000 crore project. ADB will lend around 70% of the amount. Accordingly, the Maharashtra Agribusiness Network (project) will enhance fruits and vegetable production in the State. 
In all, India needs to diversify its agro-export basket along with meeting global market standards to enhance exports.