India's major IT firms are adapting successfully to the new normal of working remotely. Working from home increasing employee efficiency in many companies.
The Transition to Working From Home (WFH)
Wipro chairman Rishad Premji encouraged IT employees to work from home even if there are partial relaxations in the lockdown after 20th April. He said working from home could make way for those who genuinely need to be out there. While 93% of its employees have got permission to deliver services from home, there is some critical work like testing and privacy-associative BPO business that cannot be done remotely.
Also, Mumbai-based TCS said that it is in no hurry to bring its employees in the office. Besides, Infosys Ltd, Mindtree Ltd, and Dell Technologies in Bengaluru have asked their employees to continue to work remotely until the situation improves.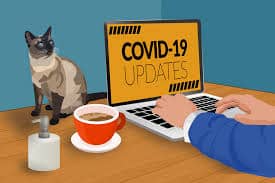 Efficiency and plans for Secure Workspace
TCS is relooking management methodologies to satisfy clients' security needs so that the employees can continue working remotely. Also, it has drafted a plan that will have only 25% of its employees working from the office. Further, it said that despite the lockdown, their clients are experiencing the same energy and delivery certainty in the projects.
Also, TCS and Wipro have formed crisis management teams to respond early, making working from home mandatory for all employees. Furthermore, Infosys has provided high-speed broadband connectivity for remote workers, whereas TCS has shifted around 40,000 desktops to the employees.
Challenges
Transitioning such a large number of employees to work from home comes with challenges. Managing employee morale, sharing required permissions from the clients, and issues related to communication and leadership pose challenges to work from home. However, companies have adapted to this and levelled up the communication that goes out to employees.
How to be Efficient While WFH?
While some employees are managing working remotely quite well, few complained about being overwhelmed with a mess at the end of the day. Well, the key is to figure out what works for you. Experts advise taking short breaks in between your working time along with following fixed meal and bedtime.
In all, the corporate sector is seeing a better contribution of employees while working remotely and hence they may consider continuing it post lockdown.