Transport and marketing assistance (TMA) scheme is an initiative striving for the expansion of the agricultural sector. Thus, by aiding in freight and marketing of native agricultural produce, TMA aims to sustenance the growth of the sector. Accordingly, it shrinks the charges of export transportation of certain agricultural good. Further on, ruthlessly promotes native produce to create an esteemed Indian brand in the global market. Additionally, the scheme is yet to hold its share in the Foreign Trade Policy (2015-20).
Objectives of Transport and Marketing Assistance Scheme
To ease the shipment of specified agricultural products
For expansion of the agriculture sector globally
To Reduce the unnecessary charges bore by the exporters for transportation of agriculture produce
Make Indian produce a proclaimed global brand
Eligibility
The eligible companies will avail appropriate guidance and assistance for exporting the consignment to the suitable nation. All exporters under the apposite Export Promotion Council following the Foreign Trade Policy are eligible to claim the benefits of TMA.
Product Eligibility under Transport and Marketing Assistance Scheme
The TMA assists with an array of pre-chosen agricultural products. Assistance under the scheme is provided to all agricultural products covered under HSN Chapters 1 to 24 except the products listed under Annexure (1). Note that, this ranges from plantation products to marine produce.
Ineligible Products
The produce ineligible to claim the benefits of Transport and Marketing Assistance are mentioned here under:
SEZs, EOUs, EHTPs, STPs, BTPs, and FTWZs exports are not entertained under the TMA scheme
It is not applicable to export the same via DTA units
Trans-shipment, that is using India to export even though the produce belongs to a third country.
The products that are not present in the scheme
Minimum Export Price or duty availing export products
Exports using e-commerce to export goods via overseas courier or post office
GOODS NOT VALID UNDER TRANSPORT AND MARKETING ASSISTANCE SCHEME
HS CODES
DESCRIPTION OF GOODS INVALID UNDER TMA SCHEME
All HS Codes
1) Live Animals
2) Meat and Edible Meat Offal
3) Products of Animal Origin (Not Specified or included elsewhere)
030617
Shrimps and Prawns
0401
Milk and Cream; not concentrated or not containing sugar or other sweeteners
0402
Milk and Cream; concentrated or containing sugar or other sweeteners
0403
Buttermilk, Curdled Milk And Cream, Yogurt, Kephir And Other Fermented Or Acidified Milk And Cream whether Or Not Concentrated Or Containing Added Sugar Or Other Sweetening Matter Or Flavoured Or Containing Added Fruit, Nuts Or Cocoa.
0404
Whey, Whether Or Not Concentrated Or Containing Added Sugar Or Other Sweetening Matter; Products Consisting Of Natural Milk Constituents, whether Or not containing added Sugar Or other Sweetening matter, not elsewhere specified Or included
0405
Butter and other fats and oils derived from milk; dairy spreads
0406
Cheese and curd
0703
Onions, shallots, garlic, leeks and other alliaceous vegetables, fresh or chilled
1001
Wheat and Meslin
1006
Rice all varieties not valid for Transport and Marketing Assistance Scheme
All HS Codes
Lac, Gums, Resins and other vegetable saps and extracts
Vegetable Plaiting Materials; Vegetable Products not elsewhere specified or included
1701
Cane or Beet Sugar and Chemically Pure Sucrose, In Solid Sugars And Sugar Confectionery not containing added colouring or added flavours
1703
Molasses Resulting from the extraction or refining of sugar
All HS Codes
Beverages, Spirits and Vinegar
Tobacco and Manufactured Tobacco Substitutes
Annexure 1 List of Products ineligible under TMA Scheme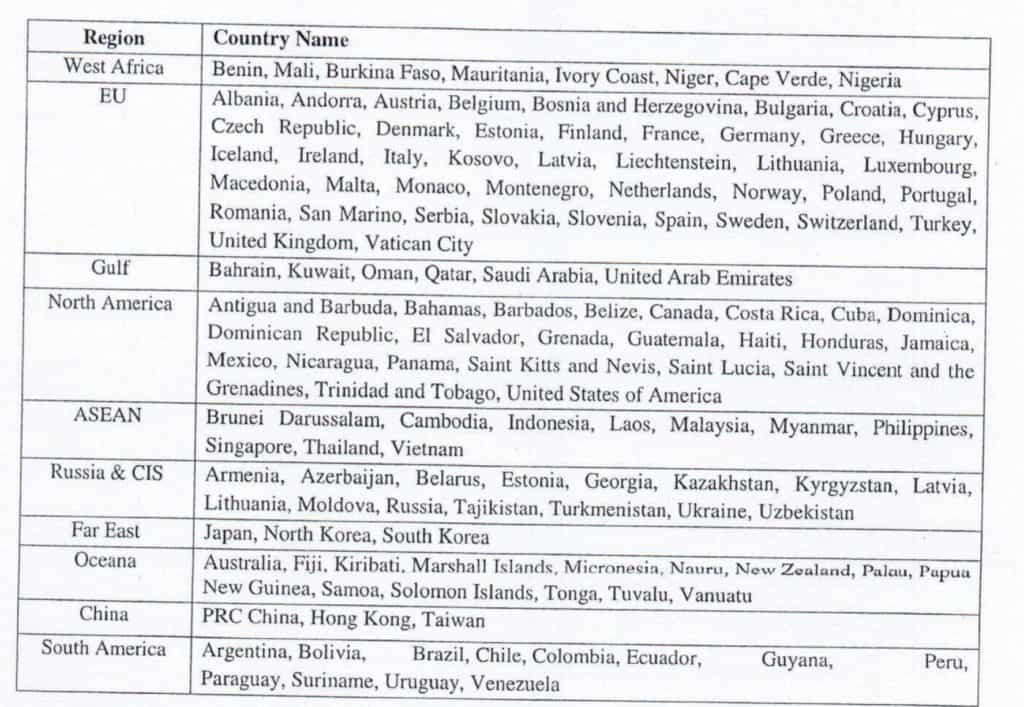 Nature of Assistance
The reimbursements are through direct bank transfer. However, if Indian Exports not paying freight is not applicable for compensation
The rate of compensation will vary on destination (Annexure (2 and 3))
The exports can avail Transport and Marketing Assistance only in case of payments concurred through Free Foreign Exchange thru banks
The scheme is applicable only if exported via EDI ports
The scheme assists for both freight and marketing of exports by sea or air
The assistance provided under the TMA scheme
Exports by sea: depends on the freight for the whole 20 feet Equivalent Unit (TEU)
Less Container Load (LCL) will not gain assistance
Similarly, a consignment with both eligible and ineligible products will not gain assistance
Likewise, no TMA for bulk transactions
A 40 feet EU will be considered as 2TEU and other consequent consignments will be treated in the same fashion.
Points to Remember
The Transport and Marketing Assistance application for the claim will be every quarter.
Fill the application claim within 1 year of the quarterly completion
Submit the claim on the basis of shipment. For instance, submit all shipments in a particular quarter as one claim in one application
Incomplete submission, no documents, fraudulent information will lose the right to claim and thus will be treated as a reject file
Transport and Marketing Assistance Scheme Landing Certificate Sample
Documents for TMA
Apply ANF- 7(A)A, along with all the necessary documents
Shipping bill (EP copy)
Shipped On board bill of lading (For sea shipments)
Chartered Accountant Certificate
Cost and Works accountant Certificate
Proof of Landing Certificate
Annexure (A) to ANF(A)A Certificate of Chartered Accountant Sample:
Protocol to claim under the TMA scheme
First, issue RCMC from the Competent official. Then, the exporter should fill the application form to claim assistance under Transport and Marketing Assistance.
The application may be by Corporate office, Register office, Head office, Branch office, or Production unit.
Address the application to RAs monitored by Additional DGFT. Nevertheless, the applicant can choose their Jurisdictional RA
Note, choose the RA with certainty s once selected, no revision will be allowed
Fill the application online click here and pay the fee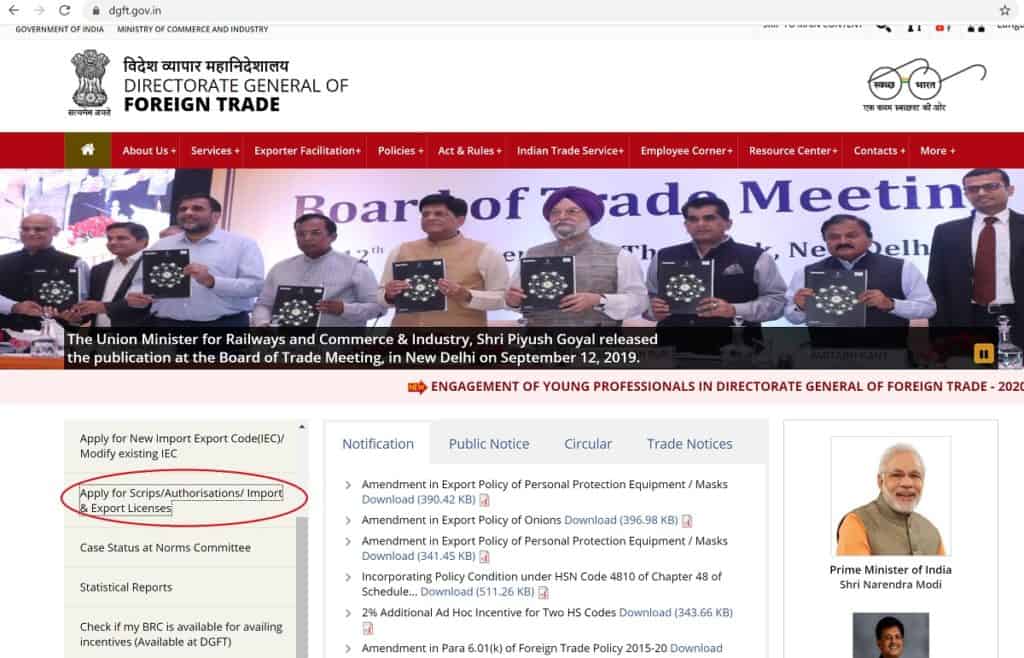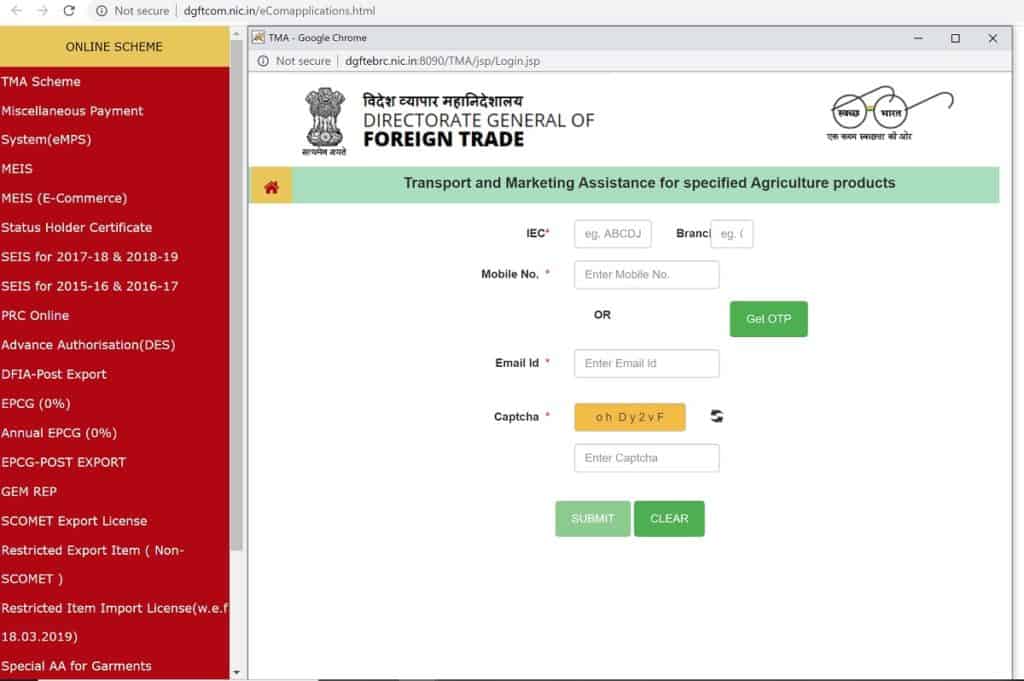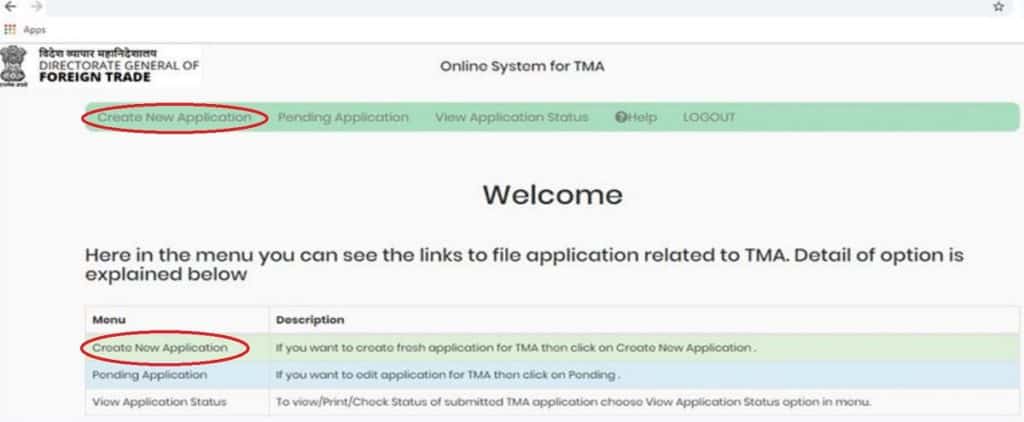 Click here to get help on rest of the application
Points to Remember
Fill the details of all the necessary documents within 30 days
Next, is the login (Similar to other ECOM sites)
Subsequently, after filling the form submit the form
Following that, issue the form that notifies successful submission
Note that application to be filed within 1 year of the quarter.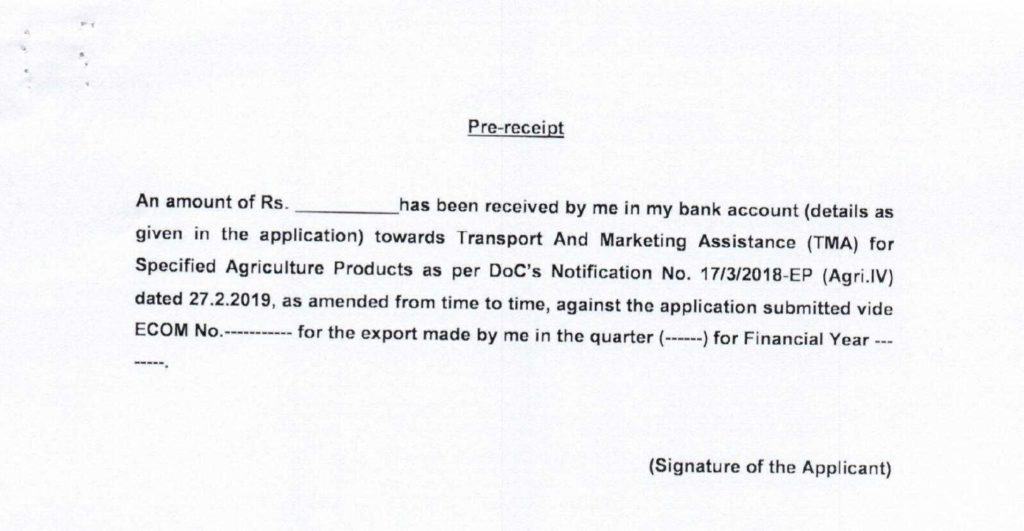 Following scrutiny by DGFT, the assistance shall be provided to the exporter.