Many farmers lost their livelihood due to untimely and excess rainfall during harvest leading to loss of crop. The NCP chief Sharad Pawar met PM Modi seeking immediate attention concerning farmers distressed farmers in Maharashtra. The meeting on Monday in New Delhi comes amidst the ambiguity over the formation of government in Maharashtra.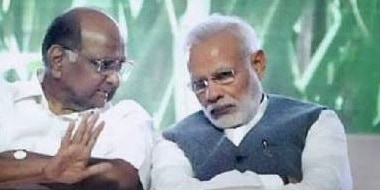 PM Modi's intervention in Maharashtra Farmer's Distress issue
NCP chief requested PM's instant involvement due to the President's rule imposed in Maharashtra since November. As a result of Maharashtra assembly polls held in October, no party independently or collectively could form a government. Following the praise received by PM regarding NCP lawmakers, NCP chief took the opportunity to emphasize the need for PM's participation in the issue.
NCP Chief Sharad Pawar's Memorandum
The three-page directive contained a full disclosure on the farmer's plight in Maharashtra. Further, he blamed the untimely rains as the reason for the troublesome incident that destroyed the majority of the crops. For instance, he mentioned that soybean, paddy and onion the major crops in Nashik were on the verge of harvest yet were crumbled by the downpour. As a result, over 44 of Nashik's farmers committed suicide in the past 10 months.
In another similar case in Nagpur where over 35,000 hectares of cotton crops were crushed to the ground. Further, he specified that the downpour immersed 325 Tehsils and destroyed 54.22 lakh hectares of crops.
Following the Meet
Maharashtra Governor, Bhagat Singh Koshyari, announced a relief of Rs 8,000 per hectare of crops and Rs 18,000 per hectare of horticulture crops. Total financial aid for the state amounted to INR 8000 crores for the distressed farmers. With NCP chief visiting PM Modi there may be more relief packages that may be announced in the future. Many crop insurance schemes by the government may come to the rescue of farmers distress in Maharashtra.
NCP Chief Sharad Pawar's Appeal
Pawar urged the center to aid the cultivators by composing an array of actions headed by the Prime Minister of the nation. Particularly put forth the demand for insurance companies fulfilling their duties, distribution of crop loans by finance ministry as restorative measures.