Pradhan Mantri MUDRA Yojana (PMMY) encourages and supports small businesses that aren't capable of availing loans. Majorly, due to the requirement of collateral or credit guarantee. Since India is a country with immense entrepreneurs requiring encouragement. Also, their advancement, in turn, aids the growth of our economy. Moreover, it significantly stabilizes poverty. Hence the scheme provides loans to eligible entrepreneurs, However, no requirements of credit guarantee like property are expected. Further, provides loans with minimal interest rates for a long tenure of repayment.
Main Target 
This scheme mainly focuses on the development of Non-Farm companies. Specifically, Non–corporate small establishments such as confectionery vendors, vegetable vendors and so on. Subsequently, it emphasizes strong support for women entrepreneurship under Mudra Yojana Scheme for Women. Thus, provides them additional benefits on availing the loan.
Objectives of PMMY
Assisting minute or small-scale businesses for their growth and expansion
Setup guidelines and policies to provide loans to small businesses without collateral or credit guarantee
Majorly, provide loans to businesses in rural and remote areas void of bank facilities 
Further,to promote and encourage women entrepreneurship by providing additional benefits
Provide easy transaction for business with Mudra Rupay card 
Additionally, to establish the card and provide access to funds from any ATM 
Financial Assistance 
PMMY Scheme can provide a loan of up to 10 lakhs. Consequently, based on the need with low-interest rates and long repayment tenure. Most importantly, with no requirement of security or valid collateral. Moreover, no additional charges from any of the following banks :
All Private and Public sector banks
Regional rural banks
Small and Microfinance institutions
Salient features of the scheme
The Scheme mainly comprises of 3 three interventions, namely
Shishu
Kishore
Tarun
These plans under PMMY provide a loan with low-interest rates of 10% to 20% per annum. Consequently, long tenures of up to 5 years. In the case of women, MUDRA extends a reduction of 25bps in its interest rates. Similarly, longer tenures of repayment will be up to 7 years (the tenure and interest may vary based on the bank)
Shishu
The plan provides a loan of up to Rs 50,000. However, requires the applicant to possess the following documents:
Self- attested ID proof copy (Voter ID, PAN card, Driving license, Aadhar card, passport, etc.)
Proof of residence (recent bills such as electricity, property tax, telephone, etc)
Two copies of the applicant's recent photographs (within 6 months)
Purchasing quotation of machinery or other items
Equipment details, supplier details, and their respective costs
Proof of address of the business
License and registration (verifying the ownership of the business)
Proof of category such as SC/ST/Minority etc.
Note: Defaulters will not be entertained
Kishore
The plan provides a loan ranging from Rs 50,000 to a maximum of 5 lakh. Accordingly, the applicant must submit the following documents in addition to the documents of the 'Shishu' plan:
Six months of the bank account statement, if any.
Balance stamen from the bank (minimum 2 years)
Income tax and sales tax receipts (for loans above 2 lakhs)
The net worth of the company along with the sales status (up to the date of submission)
Project report for the proposed project (details about technical & economic viability)

Memorandum and articles of association (company/Partnership Deed of Partners etc.)

Asset & Liability statements from the borrower including Directors& Partners (in absence of third- party guarantee)
Tarun
The plan provides a loan amount ranging from Rs 5 lakhs to 10 lakhs. Nonetheless, the documents are similar to the Kishore scheme.
Who can apply?
A loan up to 10 lakh rupees can be availed for purposes that come under Non-Farm and Non-Corporate Small Business categories. Subsequently ,the Mudra Yojana for women mainly aims to provide financial support to eligible female candidates:
Starting their own small business
Working capital for their business, financial support to women to aid the established unit
Purchase equipment for the business
Purchase vehicles for commercial use such transport vehicles, for transportation of goods and passengers, also, it could be small goods transport vehicles like Tractors, Trolleys, Power Tillers
Stimulate the growth of the business
Capable of acquiring skills for successful business operations
To overcome challenges such as Skill Development Gaps, Knowledge Gaps, Information Asymmetry, etc.
Encourages agronomic and allied sectors
For additional Eligibility criteria please refer this link
How to apply?
Eligible candidates along with necessary documents must approach a financial institution. In other cases, the applicant can download the application form from HERE to complete the process online.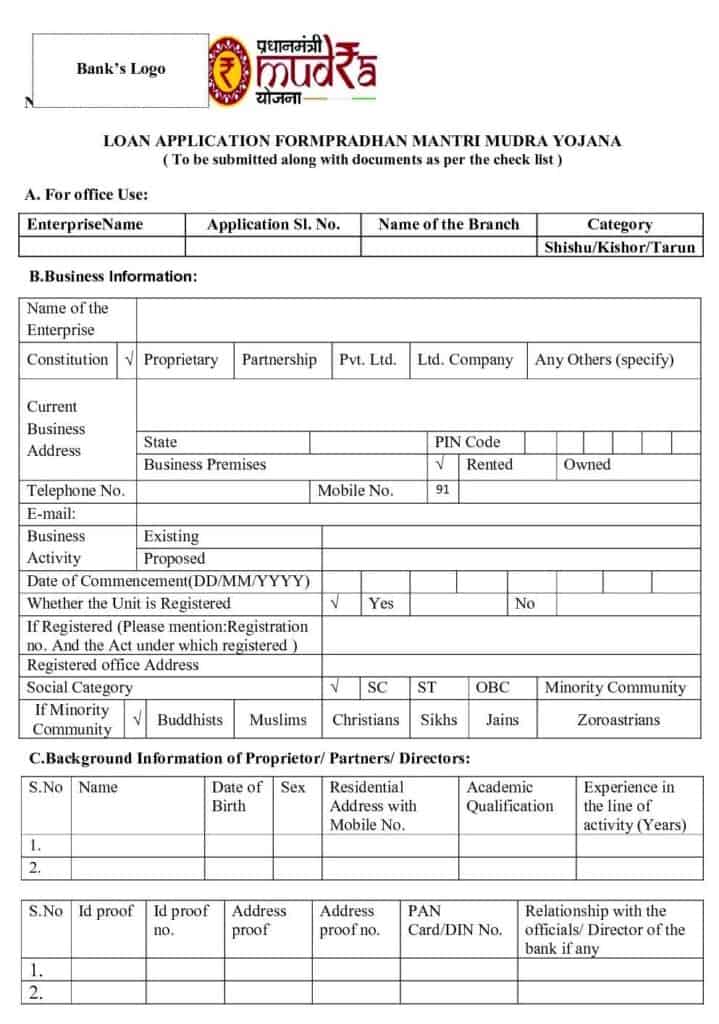 Note: The bank/financial institution may request additional documents pertaining to their requirement. Nevertheless, the institutions cannot charge additional processing fees or any collateral against the availing loan amount.
Following the application process of PMMY and selection of the interventions (Shishu, Kishore or Tarun). Consequently, the institute will process the request. After, verification and approval, the loan amount will be credited into the respective accounts.