The government has taken a crucial decision to boost farmers income. Modi government announced a hike in MSP for Rabi Crops, price of wheat being increased by Rs 85 and pulses by Rs 325 per quintal.
The Decision
The Cabinet Committee on Economic Affairs (CCEA) decided to raise the minimum support price of Rabi crops for 2020-21. The government fixed MSPs of crops at least 1.5 times the average cost of production and increased it from 50% to 109%. The floor price of wheat increased by Rs 85 that is from Rs 1840 to Rs 1925 per quintal.
The greatest increase is made in MSP of Pulses by Rs 325 per quintal. Price increased from Rs 4475 to Rs 4800 for 2020-21. This was followed by MSP of Barley which increased from Rs 1440 to Rs 1525. Safflower recorded an increase of Rs 270 in MSP (Rs 4945 to Rs 5215), a hike of 5.4%. MSP for rapeseed and mustard increased to Rs 4425 from Rs 4200 per quintal for 2020-21. Similarly, MSP of Gram hiked by Rs 255 (4.1%) to Rs 4,875 per quintal.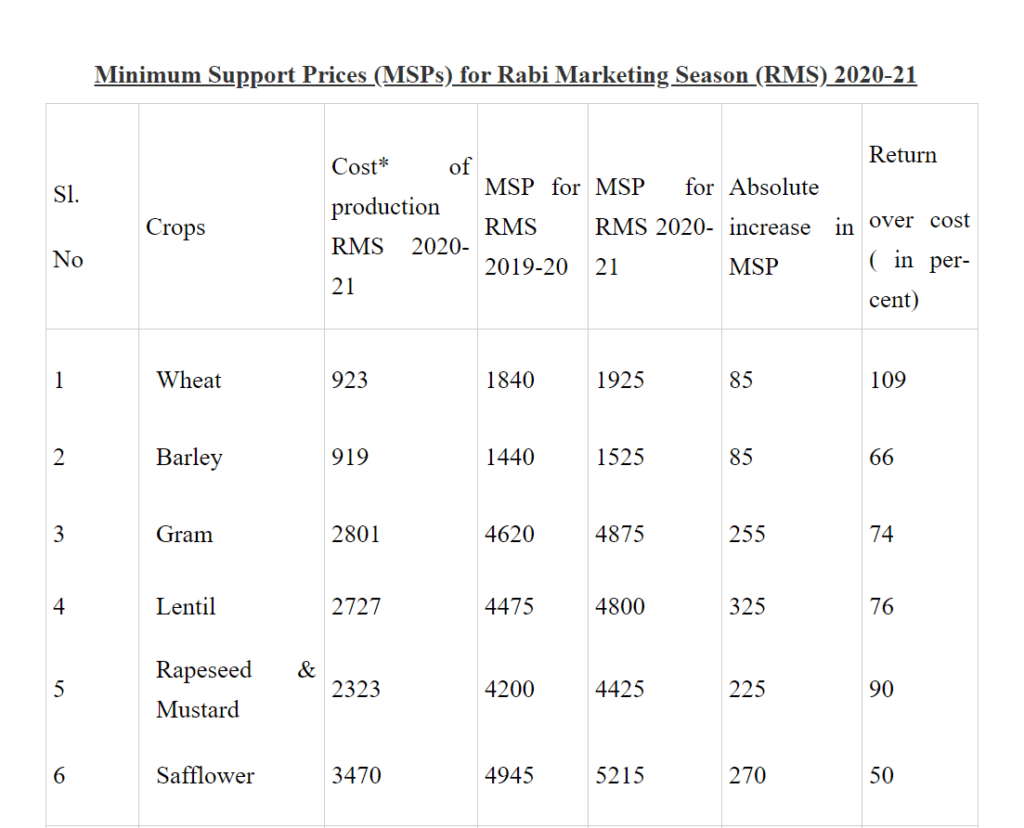 Limitations
The current formula used by the government to measure the cost of production is a narrower measure as stated by experts. It is used as a base for fixing MSP of the crops. Farmers bodies appealed to the government to use a broader formula that can include rent and interest on owned land and capital. PK Joshi, an economist, stated that cultivation cost varies across states. Few cash rich states procure at Minimum support price from 80-90% of farmers whereas statistics of other states don't go beyond 60% farmers. Besides, many farmers complain that they only get MSP for the major crop, that is, wheat and paddy.
To conclude, government needs to use a mechanism that monitors international prices for these crops to increase prices. In addition, government needs to determine inflation, supply and stress levels in agriculture sector before increasing MSP.