India has enough food grain stock to supply to its citizens for more than 1 year. If the situation worsens in the coming weeks the government of India is ready to tackle the coronavirus spread. Current stock of rice equals to 30.97 million metric tons, wheat stands at 27.52 million metric tons and un-milled paddy stood at 28.70 million metric tons.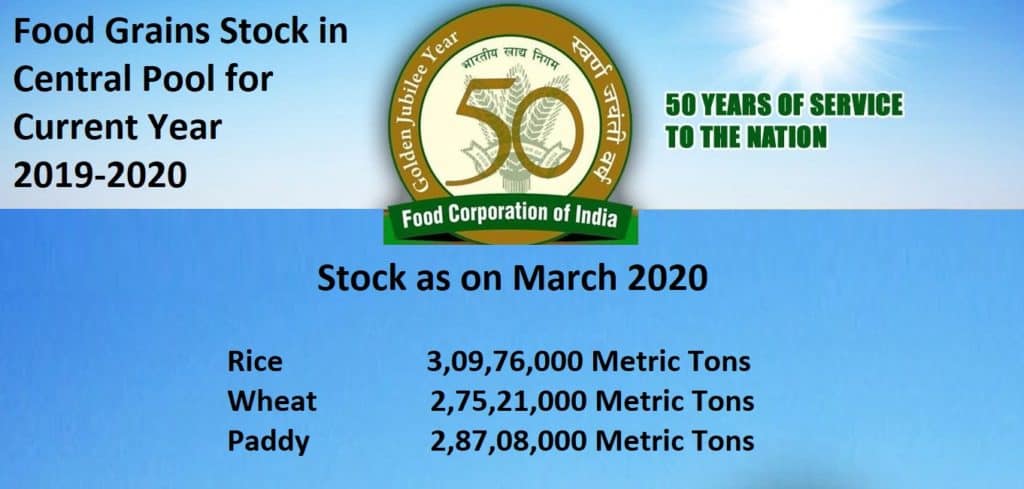 Panic Due to coronavirus
People are stocking up food and other groceries in a panic due to the coronavirus pandemic. Several retail stores have been emptied and online orders are either disrupted or delayed. Further, Amazon India confirmed that they have run out of some of the brands of food staples. Online grocery delivery service Grofers stated that they observed panic in buying behavior of consumers for personal hygiene products.
Centre Allows Hoarding for Poor
The Centre allowed poor households applicable under public distribution scheme to lift six months of grains in one go. The move will not only ensure that ensure rural families have enough to survive but will also keep a check on price rise. India has enough grain stock to supply to its citizens for more than one year.
Enough Stock to Withstand Coronavirus Spread
The lock down of states of Delhi, Karnataka, Kerala, Rajasthan, Uttar Pradesh, and Punjab by respective state governments have already directed officials to distribute free rations in advance to poor and vulnerable sections. Officials state that the country has 58.49 million tonnes (mt) of food grain stock (wheat and rice). Also, there is a stock of around 3 million metric tons of pulses, 1.1 million metric tons of oil seed and 4 million tonnes of sugar. This is enough to provide to ration cardholders and beneficiaries of other welfare schemes all around the year.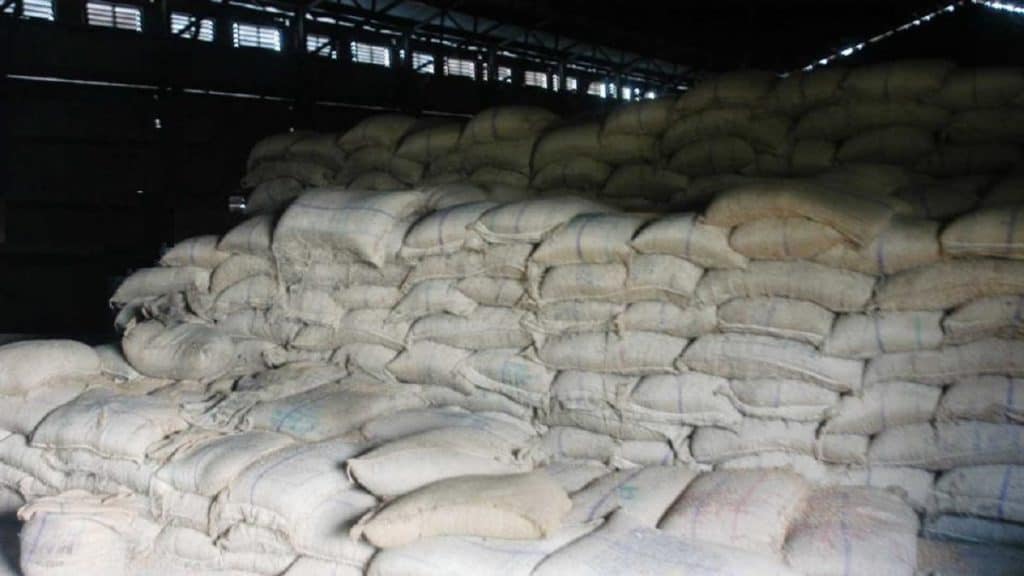 Further, wheat procurement is about to start soon. The consumer affair ministry allowed FCI to sell food stocks to private markets under the Open Market Sale Scheme (OMSS). Besides, the government has asked FMCG firms to ramp up supplies to meet domestic demand.
Stock of Pulses 
NAFED confirmed stock of pulses at 3 million metric tons that can be immediately offloaded to markets. Except for red gram that needs processing, all pulses varieties at NAFED ready for distribution. Further, the government has enough stock of oil seeds. However, it would require processing and hence it may take time to reach markets. 
Rice Exports to Middle East Increase
Rice Exports to Saudi Arabia, Iraq and UAE witnessed an increase of 12000 tonnes in January 2020 as against this month last year. Indian exporters believe the increased demand due to fear of shortage in these countries owing to coronavirus.
In all, the government has enough grain stock and hence is open taking measures to prevent the hoarding of commodities. However, should we ban the export of food grains to meet domestic demand if the situation persists?