The Inter-Ministerial Central Team blames the West Bengal government for downplaying coronavirus numbers as the state reports the highest mortality rate of 12.8%. In his letter to West Bengal Chief Secretary Rajiv Sinha, the Ministry of Home Affairs Secretary Ajay Bhalla wrote about the low rate of testing, high mortality rate and inadequate surveillance in West Bengal.
Total Coronavirus cases in West Bengal stand at 1456 while active cases are at 1047. Total of 112 new cases were reported according to West Bengal State Health Bulletin.
IMCT Blames West Bengal Government
The IMCT alleged the West Bengal government of discrepancies in the number of coronavirus cases reported by the state. Further, it asserted that the government did not provide any kind of support to the team in performing their duties which limited their field visits. Though the state claimed of very high surveillance in containment zones, no database is available which can prove this. Besides, such a high rate of mortality rate indicates low testing and weak surveillance and tracking. Further, the IMCT stated that their experience in Bengal contrasts with the experience in other states.
Total COVID-19 deaths reported by West Bengal are at 144. However, the government claims that only 72 patients passed away due to Coronavirus. Rest 72 patients had other health conditions and died due to comorbidity.
Committee set up in Bengal
The Mamata Banerjee government has set up Global Advisory Board for COVID Response Policy in West Bengal on 6th April to tackle the pandemic. The team comprises eight members, including Dr Sukumar Mukherjee who has been indicted for the worst medical negligence in Indian medical history. Despite the Supreme Court viewed him as 'Unbecoming of a doctor', the Bengal government has included him the committee. That apart, he was termed as a great disrespect to the medical profession. Not only this, but CM Mamata Banerjee had also appointed him a member of the West Bengal Clinical Establishment Regulatory Commission in 2017. The matter can put millions of lives at stake.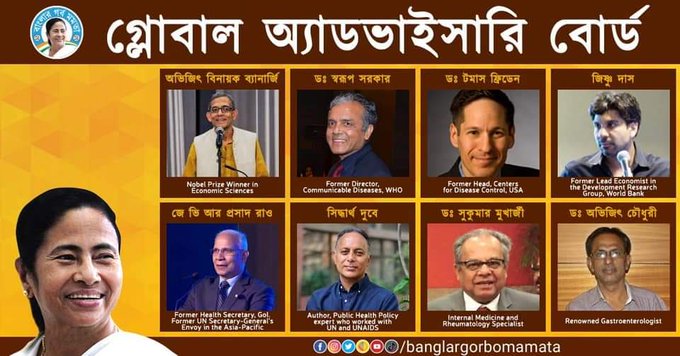 Increased Number of Reported cases Indicates Aggressive Testing
West Bengal is the fourth most populous state of India. Yet it is the fourth-lowest in terms of the number of COVID-19 tests. While the country has an average of 721 tests per million, the state has a dismal 212.6 tests per million. Keeping the numbers low artificially by low testing could overwhelm the health system of the country. Also, not checking the contacts of the positives means that the virus spread remains unchecked. An increase in the number of cases reported is a reflection of how actively the state is engaged in tacking the pandemic.
In all, the reluctance in divulging the true extent of the spread can be problematic.