NASA images show smog over four states as India records an increase in stubble burning incidents. NASA's satellite images reveal stubble burning incidents increased by 30%.
Stubble Burning Rise by 36%
A recent study conducted by System of Air Quality and Weather Forecasting And Research (SAFAR) revealed that the stubble burning in India has increased by 36%. The forecasting body has recorded 31,592 such incidents in October 2020. This number was 23,336 during the corresponding time last year. Also, the highest number of single-day stubble burning incidents was 3,471 as against 2700 farm fires the previous year. A senior official from SAFAR said that there are chances of stubble burning to continue even after November end based on the estimates of bumper produce.
Climate Trends revealed that fire counts in the last three years reached a peak in the first week of November. However, the number of farm fire soared in October this year. The director of Climate Trends attributed the rise in stubble burning incidents to weaker vigilance by the administration, which is occupied with the management of the pandemic. 
Increase in Stubble Burning in Punjab
Satellite images from the Punjab Remote Sensing Centre (PRSC) showed an increased stubble burning in borders areas with Pakistan. These include Lahore, Basirpur, Pakpattan, Burewala, Chenab Nagar, and Bahawal Nagar in Pakistan. The data collated by satellite shows a rise of 36% in stubble burning. Further, it showed that Punjab had around 1,926 farm fires from September 21 to October 9. This number was 412 in 2019 and 399 in 2018 during the corresponding year.
While Taran Taran recorded the highest number of farm fires this year 2,086, Amritsar is second on the list with 1,657 cases from 21 September to 21 October. Farm fires have also been seen in areas of Karnal, Pehowa, and Ambala in Haryana. Prabhjyot Kaur, head of the department of climate change and agricultural meteorology in PAU warned about the long spells of haze following stubble burning owing to smog developed by undispersed smoke. Further, she added that farm fires would lead to an increase in delicate particulate matter. This will raise concerns for cities like Amristar, Ludhiana, and Chandigarh.
No Alternative Available to Stubble Burning- Punjab Farmers
On an alarming number of stubble burning incidents this year, Satnam Pannu, a farmer leader, said that farmers have no other option than to burn paddy straw. He regarded these farm fires as protests against the government's failure to provide compensation for handling straw. However, the government claims that it has provided more than 23,500 agri-machines to farmers at subsidies, either by cooperative societies or the agriculture department. Further, it added that it had provided more than 51,000 paddy straw in-situ management machines to the farmers over the past two years.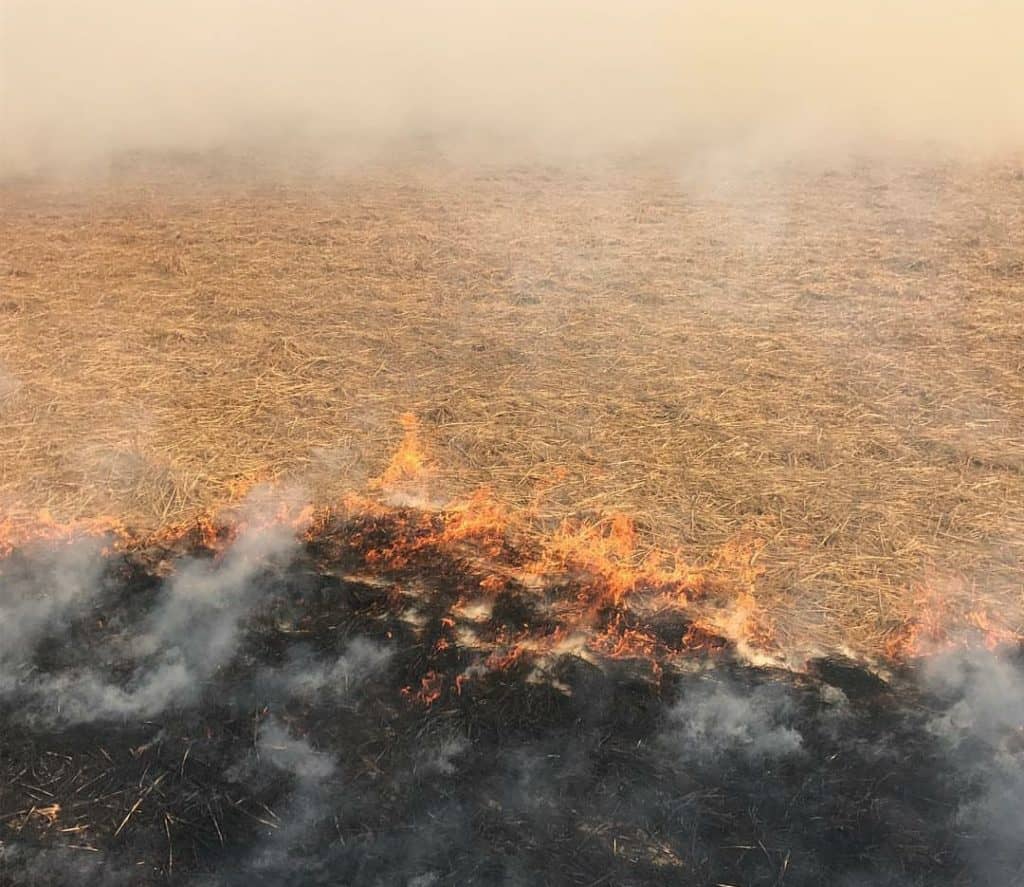 Delhi Breathes Toxic Air
Increasing paddy straw burning incidents in northern plains and a decrease in wind speed and temperatures have pushed the air quality levels to the worst in the national capital. The pollution levels in Delhi marked the highest increase of 42%, reaching the worst quality in the entire year. SAFAR explained that the northwesterly direction of boundary layer wind is favourable for the transport of pollutants to the city.
Stubble burning's share in Delhi's pollution was 40% on 1st November whereas this number was 44% at peak on the same day last year. The agency further said that better dispersion and a little increase in daytime boundary layer height might improve AQI. However, the improvement depends on a decrease in fire emissions. Delhi's AQI was 472 at noon on 5th November. Currently, its AQI is 301 (PM 2.5). PM2.5 pollution has fine particulate matter which can enter the bloodstream and hence is hazardous to health.
In all, though Punjab's stubble burning management doesn't seem to be working, it is not the leading cause for Delhi's severe AQI.