Primitive tote bags of basmati rice sack become popular in the West. The latest creation of a tote bag from basmati sack goes viral.
Rice Sack to Bag
A picture of a tote bag made out of basmati rice sack became viral on the microblogging site with 7900 retweets and 74,800 likes. A tweeter user named Naahrun shared the picture which included a brown sack tote bag with ' Basmati rice from the foothills of Himalaya' written on it. The bag had a capacity of holding 4.5kg of basmati once. Now, fitted with a zipper to create the bag, it is on sale for USD 15.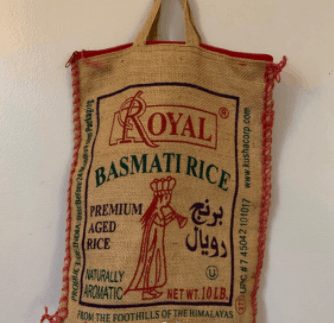 Eco-friendly and Sustainable
While several netizens regarded this as an eco- friendly adoption in the west, some criticized its acceptance. They opine that the adoption of some trendy ideas considered  'primitive' in the west earlier becomes easy when rebranded by foreign brands. However, some supported these jute bags not only due to its sustainability but also because of its fashionable appearance. Several people shared pictures of similar products being used in different countries.
The jute bags are known to have originated in Asian and Middle Eastern countries. They have been in use until now owing to its durability, sustainability, and convenience.