India's Q2 GDP growth FY 2019-20 stood at 4.50%. Many experts and rating agencies already cut the GDP growth rate of India by 1.80% in comparison to previous year. Estimates by experts came true after the actual numbers were published. This slow pace of economic growth attributed to fall in manufacturing and exports due to the global slowdown.
The Economic Slowdown
Even though Nirmala Sitharaman emphasizes the absence of recession, the fiscal slowdown is real. For instance, the growth rate of PFCE stood at 5.1% in Q2 of 2019-20 against 9.8% of Q2 of 2019-19. Similarly, estimates of current GFCF growth at 1.0% while the same grew 11.8% during Q2 former year. On the contrary, Government Final Consumption Expenditure growth stood at 15.6% compared to 10.9% in 2018-19.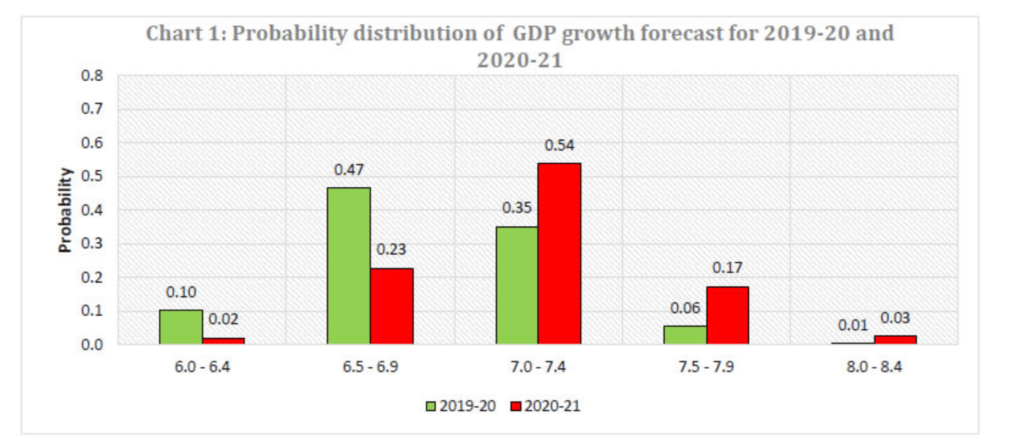 Dream of USD 5 Trillion Economy
With the sever yet predicted downfall, Modi's USD 5 trillion economy dream drifts away farther. The government report itself acknowledged the downfall of GDP growth over successive quarters. Yet no solutions are imminent to attain the said dream or at least rectify the current forfeiture. Estimated size of India's economy in 2018-19 is at USD 2.72 trillion, yet how to the objective of doubling the current size is unclear.
The current situation requires severe damage control relating to the dwindling of farmer's income, unemployment, low job opportunities and importantly the abrupt price rise.
Market Reaction to GDP Growth
One often assumes severe affect on the Indian equity market due to economic slowdown. However, market experts estimate the effect to be negligible and suggest that it will not hinder the medium-term course. Further, the Chief Investment Officer, Shailendra Kumar highlighted that the stock market would focus on Q3 GDP growth numbers. The final numbers will help predict whether the nation will experience a V or U-shaped recovery.
Government's Plan to Revive Growth
As of now, the government devised a plan to invest Rs 100 lakh crore in infrastructure projects for the next five years. As this investment would boost economic activity and job creation. Moreover, talks on further simplification of the Goods and services tax (GST) is constantly under discussion. That apart, the government formulated a series of actions such as corporate tax rate cuts, bank alliance, unified labor codes, and so on.
We cannot conclude that the government hasn't responded to low GDP growth, however, we can consider that its late acknowledgment took a major toll on the economy.