08:20 pm (IST)
22 April 2021
India's COVID-19 Situation
The current situation is heart-wrenching. Citizens are panicking as the country is not prepared even after facing the first wave. Even now, COVID-19 patients are struggling to find proper treatment and hospitals beds. Further on, finding burial space is close to impossible now. Here is a video showing the reality of the situation.
07:27 pm (IST)
22 April 2021
The US Issued Travel Advisory Against India
The US after considering the COVID-19 situation in India, a level 4 travel health notice has been issued. Thereby, any US citizen that plans on travelling to India is advised to get fully vaccinated.
07:10 pm (IST)
22 April 2021
Sputnik Probably will Reach India by May End
India's ambassador confirmed that the deliveries of Sputnik V are expected to begin this month.
07:05 pm (IST)
22 April 2021
Singapore is Blocking Indian Travellers
Keeping in mind the current COVID-19 situation of India, Singapore blocks the entry of long and short term visa holders from India and those that have recently visited India.
07:00 pm (IST)
22 April 2021
Prime Minister Modi Cancels his Visit to West Bengal
The case surge in India is the main reason PM Modi cancelled his election campaign in West Bengal, says Modi. Instead will be reviewing the current COVID-19 situation with the CMs.
06:47 pm (IST)
22 April 2021
Uttarakhand and Karnataka Have Entered Virtual Lockdown
The case rise in the states of India is frightening. The peak is higher than the first wave. Even though. PM Modi announced that lockdown would be our last resort; CMs' are taking a call and entering virtual lockdowns. In this case, all the non-essential services will be shut down to contain the spread.
06:00 pm (IST)
22 April 2021
India- US Climate and Clean Energy Agenda 2030 Partnership
During the Leaders' Summit on Climate PM Modi announced this collaboration to encourage green technologies.
05:27 pm (IST)
22 April 2021
India News April 22: Narendra Modi to Review COVID-19 Situation of the Country Tomorrow at 9 am
05:07 pm (IST)
22 April 2021
India Wide COVID-19 Contacts for COVID-19 Resources
With COVID-19 raging in India, resources are scarce and hard to find. Here is a list of contacts that help citizens find COVID-19 resources.
04:30 pm (IST)
22 April 2021
Get Live Updates on Vaccination Status in India
Click here to get live updates on the state wise vaccination numbers in India.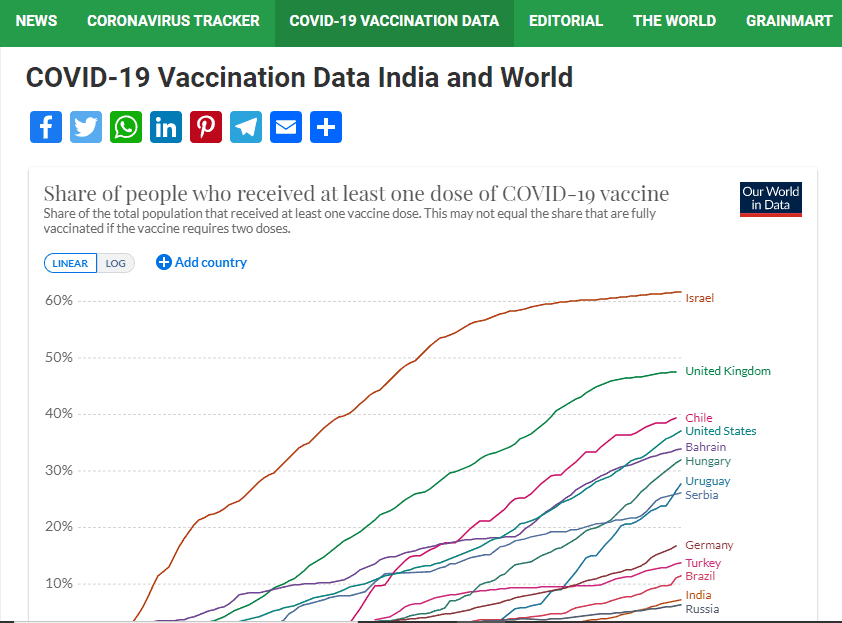 03:45 pm (IST)
22 April 2021
COVID-19 Testing Update in India
As of yesterday, India has tested 27,27,05,103 COVID-19 samples. 1651711 samples were tested on 20 April alone, report ICMR.
02:40 pm (IST)
22 April 2021
COVID-19 StateWise Report
Maharashtra reported 67,468 fresh yesterday, taking its tally to 40,27,827. Following that, Kerala has recorded 12,95,060 cases so far, along with 22,414 cases reported on April 21. Subsequently, Karnataka, Tamil Nadu, Andhra Pradesh, Uttar Pradesh, and Delhi follow with 1222202, 1025059, 986703, 942511, and 930179 positive cases.
02:32 pm (IST)
22 April 2021
India News April 22: India Reported 2101 Deaths and 3,15,735 Fresh Cases on 21 April
India reported 3.15 lakh fresh COVID-19 cases on Wednesday, pushing the total infections tally to 1,59,24,989. Further, the active cases tally reached 22,84,411, a report from the Union Health Ministry. The death toll stands at 1,84,672 after reporting 2101 deaths yesterday.
02:00 pm (IST)
22 April 2021
India News: Emirates Suspends Flights Between Dubai and India
Owing to the surge in COVID-19, Emirates are suspending flights between India and Dubai for 10 days from April 25.