04:47 pm (IST)
21 April 2021
Covaxin Shows 100% Efficacy Against COVID: Bharat biotech and ICMR
The final report on efficacy of Covaxin is due in June. Meanwhile, it is showing 75% effectiveness clinically. Also a 100% efficacy against severe COVID-19 disease. This report was drafted following the completion of second stage analysis of phase 3 trails. Know more here.
03:47 pm (IST)
21 April 2021
Covaxin Works Against all Variants of COVID-19, says ICMR
02:15 pm (IST)
21 April 2021
Customs Duty Exempted on Import of Remdesivir Injection
01:47 pm (IST)
21 April 2021
COVID-19 Vaccine Efficacy
Here is a complete video explaining the efficacy of COVID-19 vaccines that are currently available.
01:00 pm (IST)
21 April 2021
Covishield Vaccine Dose at 400 Rupees for State and 600 Rupees for Private hospitals
Serum Institue of India said that the Covishield vaccines are more affordable when compared to the foreign vaccines. Click here to read more about the vaccine.
12:27 pm (IST)
21 April 2021
India News April 20: Triple Mutant Variant of COVID-19 Emerges in India
Following the double mutation scare, now three different COVID strains have combined to form a new variant. States like Maharashtra, Delhi, and West Bengal have reported cases driven by this new variant. Scientists believe that this is a more transmissible variant and it is also globally spread.
12:07 pm (IST)
21 April 2021
India Wide COVID-19 Contacts for COVID-19 Resources
With COVID-19 raging in India, resources are scarce and hard to find. Here is a list of contacts that help citizens find COVID-19 resources.
11:30 am (IST)
21 April 2021
Get Live Updates on Vaccination Status in India
Click here to get live updates on the state wise vaccination numbers in India.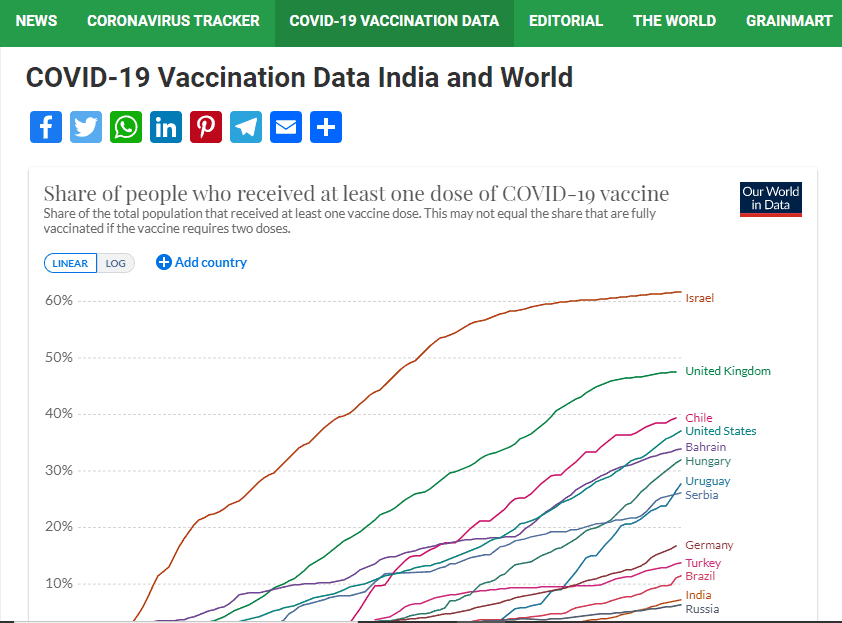 10:45 am (IST)
21 April 2021
COVID-19 Testing Update in India
As of yesterday, India has tested 271053392 COVID-19 samples. 1639357 samples were tested on 20 April alone, report ICMR.
09:40 am (IST)
21 April 2021
COVID-19 StateWise Report
Maharashtra reported 58,924 fresh yesterday, taking its tally to 39,60,359. Following that, Kerala has recorded 12,72,646 cases so far, along with 13,644 cases reported on April 20. Subsequently, Karnataka, Tamil Nadu, Andhra Pradesh, and Uttar Pradesh follow with 1198644, 1013378, 976987, and 909405 positive cases.
09:32 am (IST)
21 April 2021
India News April 20: India Reported 2023 Deaths on 20 April
India reported 2.95 lakh fresh COVID-19 cases on Tuesday, pushing the total infections tally cross the 20 lakh mark. Further, the active cases tally reached 21.57 lakhs, a report from the Union Health Ministry. The death toll stands at 1,82,601 after reporting 2023 deaths yesterday.
09:00 am (IST)
21 April 2021
India News: Oxygen Shortage in the National Capital
Delhi hospitals report that they are down to hours of Oxygen. Two of the top hospitals- Max and Ganga Ram Hospital have complained the same. Concerning that, CM Arvind Kejriwal has requested the centre to supply oxygen at the earliest. Further, to avoid such instances in the future, Oxygen Audit Committee is formed to check on oxygen stocks and consumption.