09:47 am (IST)
20 April 2021
Prime Minister Modi Addressing the Nation on the Current COVID-19 Situation
Primarily PM Modi asked the country to focus on micro-containment rather than a nationwide lockdown. Further, he assures citizens that lockdown is our last resort and will be avoided at all costs.
Next, he focused on migrant workers. He asked the state governments to help migrant workers and assure their jobs. Also, he assures them that they will be vaccinated in the coming days.
Moving on, he highlighted his recent video conference with vaccine manufactures. In which, he urged the manufacturers to scale up vaccine production.
PM Modi urges the youth of the nation to form small committees and create awareness about COVID-19 protocols.
Finally, concluded by saying that the citizens must follow social distancing norms and wear masks.
Read more here.
01:20 pm (IST)
20 April 2021
Startup India Seed Fund Scheme Shall Provide Financial Assistance to Startups
09:00 pm (IST)
20 April 2021
Dairy Farmers in Chhattisgarh Throw 1500 Litre Milk Down the Drain
Owing to the new stringent COVID-19 rules, dairy farmers are not able to sell the milk. Also, without proper cold storage facilities, they can not store it. Thus, they showed their protest by pouring the milk down the drain. As of now, they have wasted 4500 litres of milk, costing 2 lakhs that could have been supplied to patients at COVID care. Thus a lot of anger is being projected towards this decision.
08:47 pm (IST)
20 April 2021
Summary of the New COVID-19 Wave in India
The national registry of COVID-19 collected data from all the patients hospitalised for COVID-19 in the second wave and summarised the characters of the second wave.
08:27 pm (IST)
20 April 2021
India News April 20: India to Ban Cryptocurrencies
Even though the government does not announce an apparent cut reason for the step, some analysts believe that the cryptocurrency is a Panzi scheme. Further, a recently surfaced report showed that 60% of financial crimes are linked to cryptocurrencies. Bearing this in mind, the Indian government is planning to ban cryptocurrencies. Thus, anyone trading or holding such digital assets will be fined.

08:07 am (IST)
20 April 2021
India Wide COVID-19 Contacts for COVID-19 Resources
With COVID-19 raging in India, resources are scarce and hard to find. Here is a list of contacts that help citizens find COVID-19 resources.
08:30 am (IST)
20 April 2021
Get Live Updates on Vaccination Status in India
Click here to get live updates on the state wise vaccination numbers in India.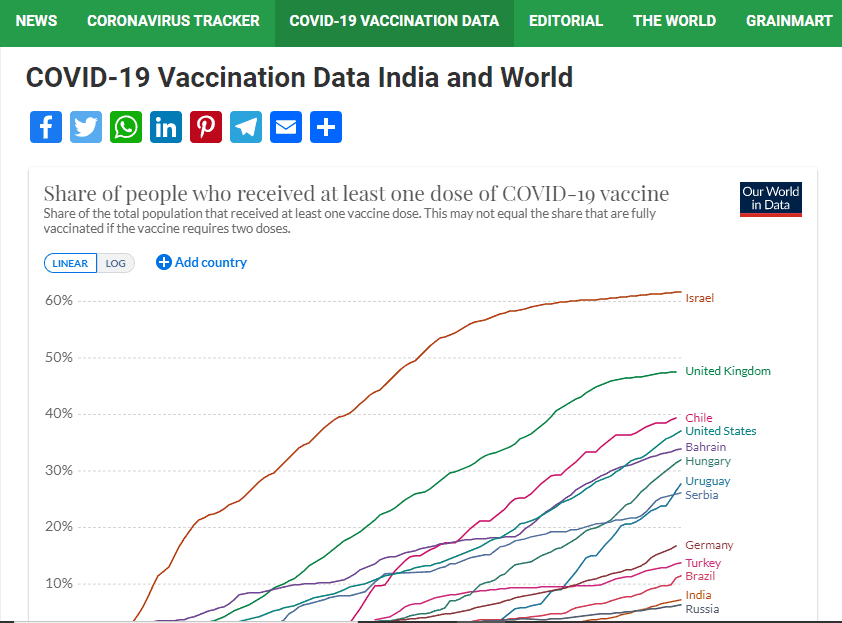 07:45 am (IST)
20 April 2021
COVID-19 Testing Update in India
As of yesterday, India has tested 267894549 COVID-19 samples. 1356133 samples were tested on 18 April alone, report ICMR.
07:40 am (IST)
20 April 2021
COVID-19 StateWise Report
Maharashtra reported 58,924 fresh yesterday, taking its tally to 38,98,262. Following that, Kerala has recorded 12,53,069 cases so far, along with 13,644 cases reported on April 19. Subsequently, Karnataka, Tamil Nadu, Andhra Pradesh, and Uttar Pradesh follow with 1176850, 1002392, 968000, and 879831 positive cases.
07:32 am (IST)
20 April 2021
India News April 20: India Reported 2.5 Lakh Fresh Cases on 19 April
India reported 2,56,828 fresh COVID-19 cases on Sunday, pushing the total infections tally to 1,53,14,714. Further, the active cases tally crosses 20 lakhs and reached 20,24,629 report from the Union Health Ministry. The death toll stands at 1,80,550 after reporting 1,757 deaths yesterday.
07:00 am (IST)
21 April 2021
India News: Oxygen Shortage in the National Capital
Delhi hospitals report that they are down to hours of Oxygen. Two of the top hospitals- Max and Ganga Ram Hospital have complained the same. Concerning that, CM Arvind Kejriwal has requested the centre to supply oxygen at the earliest. Further, to avoid such instances in the future, an Oxygen Audit Committee is formed to check on oxygen stocks and consumption.