01:47 pm (IST)
19 April 2021
India's Double Mutation Now Seen in Ten Countries
The new strain has threatened the country and is one reason why the COVID-19 infections are growing despite the measures. Currently, Brazil has also reported the double mutation strain.
12:47 pm (IST)
19 April 2021
Delhi Announces Lockdown From 10 pm to 5 am
Following the highest jump in Delhi on Sunday, Delhi CM Arvind Kejriwal announced the lockdown. Further, he mentioned that the state is running out of ICU beds and oxygen ventilators.
12:27 pm (IST)
19 April 2021
Bitcoin Price Drops As Turkey Bans Cryptocurrency Payments
The biggest crypto coin fell approximately 10.1% to reach $54,743.57 on Sunday.
11:47 am (IST)
19 April 2021
India Wide COVID-19 Contacts for COVID-19 Resources
With COVID-19 raging in India, resources are scarce and hard to find. Here is a list of contacts that help citizens find COVID-19 resources.
10:30 am (IST)
19 April 2021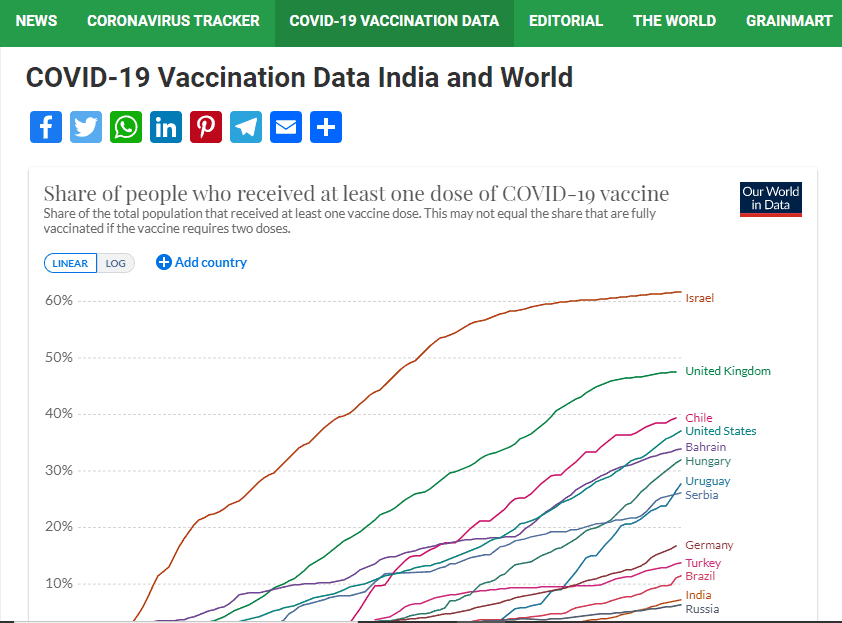 08:45 am (IST)
19 April 2021
COVID-19 Testing Update in India
As of yesterday, India has tested 266538416 COVID-19 samples. 1566394 samples were tested on 17 April alone, report ICMR.
08:40 am (IST)
19 April 2021
COVID-19 StateWise Report
Maharashtra reported 68,631 fresh yesterday, taking its tally to 3839338. Following that, Kerala has recorded 1239425 cases so far, along with 18257 cases reported on April 18. Subsequently, Karnataka, Tamil Nadu, Andhra Pradesh, and Delhi follow with 1161065, 991451, 962037, and 853460 positive cases.s
08:32 am (IST)
19 April 2021
India News: India Reported Almost 3 Lakh Fresh Cases on 18 April: A New High Everyday
India reported 2,74,944 fresh COVID-19 cases on Sunday, pushing the total infections tally to 1,50,57,767. Further, the active cases tally almost reaches 20 lakhs and reached 19,23,877 report from the Union Health Ministry. The death toll stands at 1,78,793 after reporting 1620 deaths yesterday.
08:00 am (IST)
19 April 2021
India News: COVID-19 Positivity rate Doubles to 16.69% in 12 Days
The daily positivity rate has increased from 8% to 16.69% in just 12 days. While the weekly positivity rate has increased from 3.05% to 13.54% in the last month. Maharashtra, Uttar Pradesh, Delhi, Chhattisgarh, Karnataka, Madhya Pradesh, Kerala, Gujarat, Tamil Nadu, and Rajasthan report 78.56% of the fresh cases.