1:00 pm (IST)
18 April 2021
Prime Minister Narendra Modi Held a Meeting with Varanasi Health officials to Review the COVID19 Status
11:50 am (IST)
18 April 2021
Delhi CM Arvind Kejriwal Addresses the Pm Regarding the COVID-19 Concerns in the State
11:47 am (IST)
18 April 2021
Railways is Offering Resources to Fight COVID-19 in India
10:30 pam (IST)
18 April 2021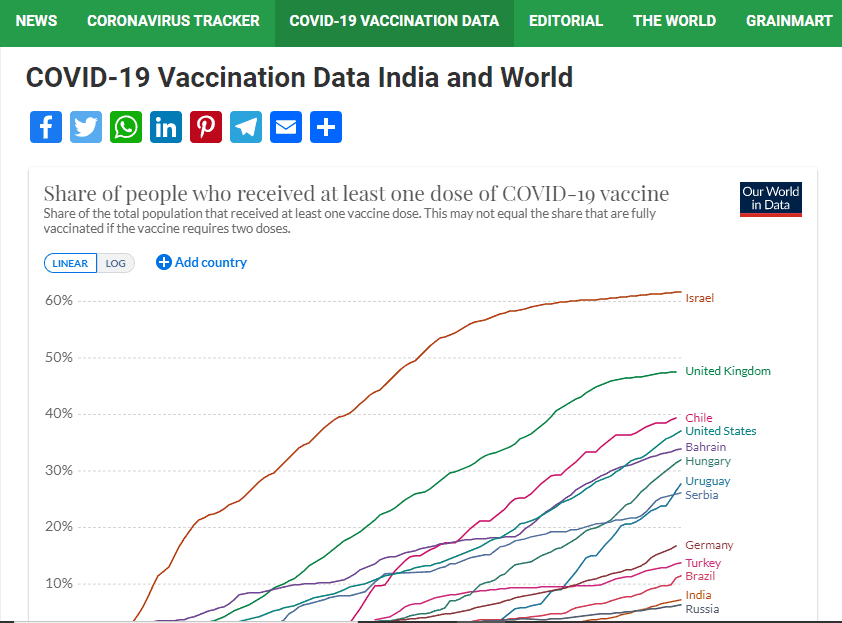 10:07 am (IST)
18 April 2021
USD/INR Update: Why id Rupee Value Decreasing?
The surge in COVID-19 cases and RBI's G-SAP programme for liquidation. Read more here.
09:35 am (IST)
18 April 2021
COVID-19 Testing Update in India
As of yesterday, India has tested 26,49,72,022 COVID-19 samples. 14,35,957 samples were tested on 17 April alone, report ICMR.
9:30 am (IST)
15 April 2021
COVID-19 StateWise Report
Maharashtra reported 67,123 fresh yesterday, taking its tally to 37,70,707. Following that, Kerala has recorded 12,21,168 cases so far, along with 13,835 cases reported on April 17. Subsequently, Karnataka, Tamil Nadu, Andhra Pradesh, and Delhi follow with 11,41,998, 9,80,728, 9,55,455, and 8,27,998 positive cases.s
08:32 am (IST)
18 April 2021
India News: India Reported Almost 3 Lakh Fresh Cases on 17 April
India reported 2,60,533 fresh COVID-19 cases on Saturday, pushing the total infections tally to 1,47,82,461. Further, the active cases tally crosses the 17 lakh mark and reached 17,93,976 report from the Union Health Ministry. The death toll stands at 1,77,167 after reporting 1492 deaths yesterday.
08:00 am (IST)
18 April 2021
India News: COVID-19 Infection Rate Higher Than Recoveries in India
Currently, India has the highest growth rate of 7.6% in the world. The current rate is 1.3 times higher than the case growth in June 2020, reports Union Health Minister Harsh Vardhan.