03:07 pm (IST)
14 April 2021
CBSE Board Exam for Class 10 Cancelled and 12 Postponed: Ministry of Education
02:47 pm (IST)
14 April 2021
Average age of Hospitalization is now 45 Instead of 60
Owing to the vaccination drive, senior citizens are now vaccinated in India. Thus, the average hospitalization age due to COVID-19 has now fallen to 45 from 60. This clearly outlines the importance of vaccination against COVID-19. Thereby, everyone in the country must get vaccinated at the earliest and ignore the rumours in this regard.
01:30 pm (IST)
14 April 2021
No Crematorium Sites for COVID-19 Victims
Queues at Crematorium are waiting longer for the burial of COVID-19 victims across the country. For instance, Bengaluru has only four crematories allotted to the COVID-19 victims. Also, the same kind of situation can be seen in Gujurat. From not receiving hospital beds and proper treatment to now finding burial sites, COVID-19 affected citizens, and their relatives go through a lot.
12:47 pm (IST)
14 April 2021
UP CM Yogi Adityanath Tested Positive for Coronavirus Today
11:45 am (IST)
14 April 2021
Navaratri 2021 Celebrated in India Amid COVID-19 Surge
11:15 am (IST)
14 April 2021
COVID-19 Testing Update in India
As of yesterday, India has tested 26,06,18,866 COVID-19 samples. 14,11,758 samples were tested on 13 April alone, report ICMR.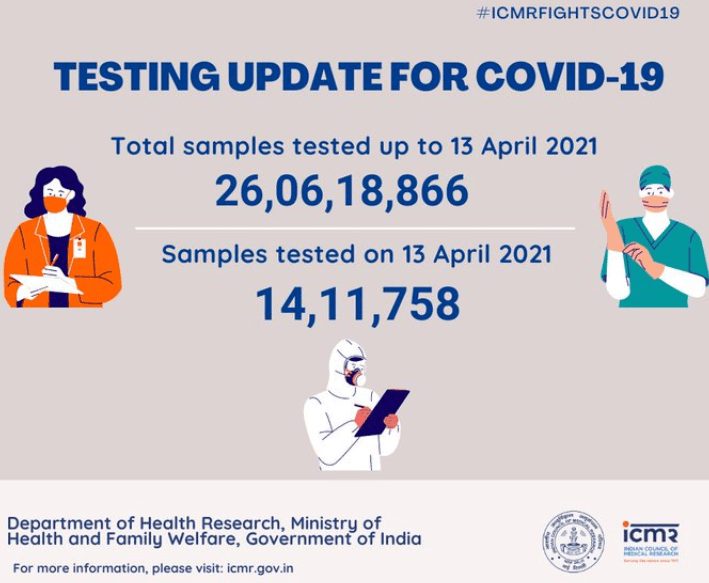 11:00 am (IST)
14 April 2021
India News 14 April: Delhi Health Minister Gave an Overall Report on COVID-19 Status
10:45am (IST)
14 April 2021
PM to Hold a Meeting About CBSE Board Exam Today at 12
Prime Minister Modi is conducting a meeting with the education ministers and other officials to discuss the CBSE exams amid the COVID-19 pandemic.
10:15 am (IST)
14 April 2021
India News April 14: Double Mutation Found in 61% of COVID-19 Cases in Maharashtra
NIV, Pune shared a report which confirms the double mutation E484Q and L452R in fresh cases. Of the 361 samples taken in Maharashtra, 220 contained the said mutations, now classified as B.1.617 lineage.
9:30 am (IST)
14 April 2021
Bureau of Immigration Released Travel and Visa Restrictions During COVID-19
The rules are devised to avoid the spread of infections between countries. Read the complete rules here.
09:02 am (IST)
14 April 2021
India News: COVID-19 Highest Single Day Case Rise Strikes India Again
India reported 1,84,372 fresh COVID-19 cases on Tuesday, pushing the total infections tally to 1,38,73,825. Further, the active cases tally crosses the 13 lakh mark, reports the Union Health Ministry. The death toll stands at 1,72,085 after reporting 1027 deaths yesterday.
08:00 am (IST)
14 April 2021
India News: Pilgrims Tests Positive at Kumbh Mela 2021
The sheer ignorance of social distancing norms and refusal to wear masks has resulted in hundreds of testing positive for COVID-19 in Haridwar. Despite governments attempts to ensure proper guidelines, the COVID-19 safety protocols were flouted. Thus, the lakhs of pilgrims and seers that were a part of Kumbh Mela are now at risk. As of now, over 150 participants have turned positive.