The ICMR study hints at seven lakh infections in early May. This new analysis reveals that India may have undercounted cases.
Undercounted Coronavirus Cases
The Indian Council of Medical Research conducted a serological survey in 69 districts across 21 States. The study found that the SARS-CoV-2 virus could have infected over 7,00,000 people in these districts even in early May. The revealed number is approximately 20 times the number of reported cases, that is 35000, in early May. Also, it suggested underestimation of the actual overall COVID-19 count by a factor of at least 20. India has reported 332920 COVID cases with 9523 fatalities as of 15th June. 
Reliability of Serological Surveys
Contrary to this, the academic literature suggests that the serological surveys can show false positives if there is a low prevalence of the disease. However, the scientist part taking in the research says that the number is an accurate estimate as the survey measures prevalence in regions that had a highly variable incidence of the disease.
The Survey 
The survey began on 12th May with a collection of 24,000 serological samples. The individuals may have been infected on 30th April, considering that the detection of Ig antibodies takes around an average of two weeks.  Director-General of ICMR Balram Bhargava at a press conference said that the evidence shows that around 0.73% of the population in the tested districts had past exposure to the virus. However, he did not reveal the actual number of infected. Further, the 2011 census depicts that the adult population in the said districts accounts for 60% of the overall population, and this works around 96 million people.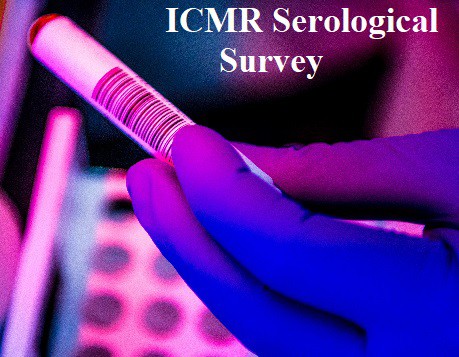 Level of Infections in Hotspots
The research committee on COVID-19 conducted another survey to determine levels of infections in hotspots. For this, it took another set of districts and concluded the presence of community transmission for long. Dr Jayaprakash Muliyil, an epidemiologist, involved in the design of the survey and Member of the research committee, noted the limitations of the test. He said that its accuracy depends on the background levels of the disease in a region.  However, he mentioned that the test works well for detecting infection in the community.
In all, the survey shows a fair degree of containment for a country India's size.