Anoop Kumar Gupta, the Joint Director of KRBL Ltd, was arrested by Enforcement Directorate (ED) today on charges of Money Laundering in the Augusta VVIP Chopper Deal. Mr Gupta attended the court hearing with Special CBI Judge Arvind Kumar at Rouse Avenue Court.
The arrest was made on claims that he was not cooperating with the investigation. Further, he has been sent on five-day judicial custody to Enforcement Directorate. KRBL remains India's top exporter and domestic seller of basmati rice under India Gate brand.
N.K. Matta, ED's Special Public Prosecutor, confirmed that Mr Gupta was required to produce several documents to find out the money trail in the case. The anti-money laundering agency established that more than 70 million Euros laundered through channels involving various political persons and bureaucrats to influence the contract of Augusta VVIP Choppers.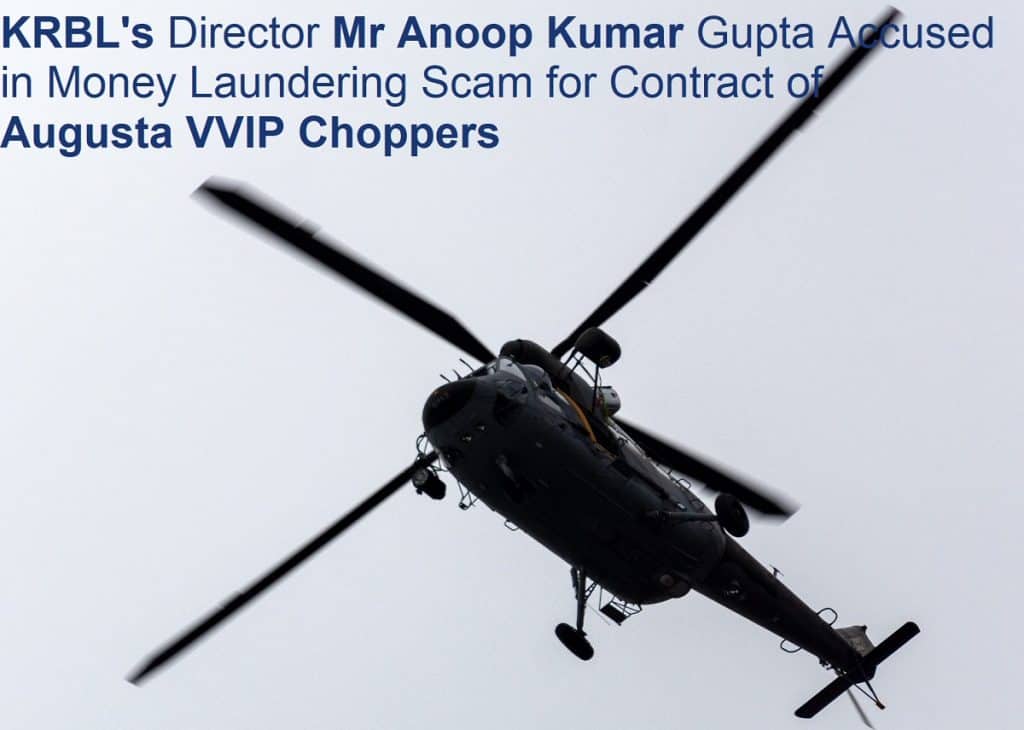 Account of Charge Sheet
According to the supplementary charge sheet filed in the court, IDS Information Technology and Engineering Sarl, Tunisia received 24.37 million Euros from AgustaWestland. Further, Interstellar Technologies Ltd Mauritius received 12.4 million Euro and more proceeds transferred to various companies. Those companies include Rawasi Al Khaleej General Trading LLC Dubai, a company formed through KRBL's subsidiary KRBL DMCC. Mr Gupta was the director of KRBL DMCC.
Enforcement directorate received certain documents related to this case which confirmed Mr Anoop Gupta controlling financial transactions of KRBL Ltd. In addition, Mr Gupta signed a fraudulent agreement between Interdev Aviation Services Pte Ltd. and KRBL DMCC to receive the proceeds of crime in KRBL's bank account.
In 2018, another top official of KRBL Ltd, Mr Gautam Khaitan was arrested in the same money laundering case. However, the company distanced themselves from the accusations citing that the company being unaware about Mr Khaitan's internal workings.
Enforcement Directorate attached immovable assets of KRBL Ltd worth INR 17 crores. Surprisingly, KRBL Ltd stock rose today by 2.55% to INR 237.