To maintain the legality of the business/ company and its director, the Director Identification Number (DIN) came into force. Accordingly, DIN is the unique 8-digit number assigned to the director. Further, The Companies Act, 2006 (section 266A- 266G) clearly states its purpose.
To clarify, the DIN remains the same even if the director changes the establishment. Thus, it is confined to an individual and non- perishable. Similarly, an individual issues a DPIN (Designation Partner Identification Number) on the basis of the designation.
Available Forms for DIN Application
The forms available on/line for this purpose is as follows
SPICe form: This form in case the individual is the first director of a fresh company
DIR-3 Form: This form in case the individual is becoming the director of an already established company
DIR-6 Form: The form is useful when the individual has to make changes in the existing DIN information.
Documents Required
The general documents that are essential for the process are:
Proof of identity- PAN card for residents of India. While for Non- residents and foreign Nationals passport acts as the Proof of identity 
Proof of address- Passport, Driving License, Voter ID, bank statements, Educational certificates, Birth certificate, and various forms of bills 
Digital Signature Certificate (DSC)
Additional details based on the forms
In addition to the basic details, the applicant must submit a few additional information based on the form
For SPICe Form
Type of entity 
Company details 
Details regarding the main division
Company's address 
Applicant's details 
Initial subscribers of MOA and the directors 
Payment details of stamp duties 
PAN (also TAN) 
Information about the enrollment under Employee State Insurance Company (ESIC)
Applications of Employee Provident fund (Number of people) and Miscellaneous Act
Employees with income lesser than Rs 15,000
Investment details 
Declarations 
DSC with the signatory details 
Attach Memorandum of Association, Articles of Association and Affidavit 
For DIR- 3 form
Name of the applicant and his/ her father
Citizenship of India, in any other case, mention the Nationality
Residential and Occupational details
Date of Birth
Gender
PAN, Voter ID, Passport, Driving License and Aadhar details
Attach the proof for the above
Verification
Digital Signature
Authorization and DSC of Chartered accountant, Cost Accountant or Secretary
For DIR- 6 form
The same details provided in DIR-3 is necessary. In addition to that, these details must be provided
DIN
Type of Change
Director's Name
Contact details
Points to Remember before stating the Application Protocol
These pointers will minimize the chances of application rejections
Cross-check all the details, as incorrect documents and information will lead to disapproval of the form
Attach all the necessary documents
Self- attest the forms
The DIN will be canceled on the death of the person, or when the means of issuing DIN is found to be fraudulent
Protocol to apply for DIN
The basic procedure will follow six phases, that is providing documents, filling the form, Digital signature, Payment, generating DIN, and verification of e-form.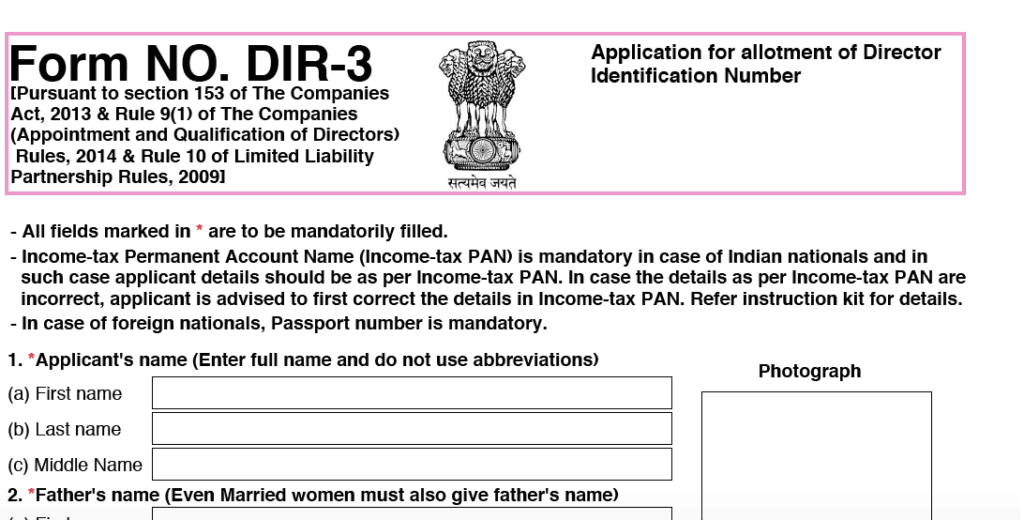 The general process of obtaining DIN is as follows:
Filling the form is an offline procedure. Therefore, initially download the form on considering the requirements and fill it.
Following the filling process of the application, go to the MCA website
Subsequently, Create an account and log in
Submit the form with the documents mentioned earlier in the article
Consequently, the next step is payment of Rs 500. Payment can be via debit or credit card
Finally, collect the acknowledgment as a sign for the payment and application submission
After scrutiny, the DIN will be generated if the same info is found to be true and apt in 3-4 days. Meanwhile, the status can be inquired here. On the contrary, if a duplicate is found, a provisional DIN will be issued that will be changed on verification through DIR-4
Protocol for cancellation of DIN
In some cases, like duplication, inappropriate usage, an application to cancel the DIN may be initiated. Thus, any individual in quest of cancellation or deactivation should acquiesce an application with any official authorized by the Regional Director. Note that, it is important to attach the proof of misconduct. On intense scrutiny of the proof attached with the application, the allotted DIN will be canceled or deactivated