To help your dog stay healthy, you need to provide him with good nutrition. Healthy nutrition isn't only crucial for human beings; it is also essential for pets so they could have a more robust immune system. To provide your pet with healthy nutrition, there are different pet food companies like origins, wellness pet food, and royal canin kitten; these food companies have an adequate amount of essential nutrients in them to keep your pet in shape.
Dog's Day to Day Nutrient Requirement
Various nutrients are essential to keep your dog healthy, for your help, some of them are listed below,
Carbohydrates
Fats
Minerals
Essential fibers
Vitamins
Proteins
Water
To meet your dog's body needs, protein, and carbohydrates are essential. All the nutrients mentioned above should be the regular part of your dog diet; research has shown that the dogs who take these crucial nutrients in their diet remain healthier and live longer.
One of the crucial factors here is that dogs have different nutrients needs throughout their life stages, which means the food our dog should eat depends on their age. As you must have noticed, in your dog's early growth stages, when he is just a puppy, he eats more because he needs more energy during development. According to the nutritionist, if your puppy's age is somewhere between 6 to 8 weeks, it requires six meals a day. A dog's growth is completed by 8 to 10 months of age, so after that, you can switch your dog to the adult puppy food.
Myths About Grain in Your Pet's Food
Grains are not Digestible.
Everyone must have heard about the myths about grains and how they are unhealthy for your dog as they are indigestible. Still, busting these myths, we want you to know that there is no such thing because dogs can easily digest a high starch diet, although it has been observed that dogs can digest 95% of starch.
Grains Can Cause Allergies.
You must have often heard how grains can be the reason for allergies in your dog, but if you have noticed, you must also have seen how meat is more likely to cause allergies in your dog than grains. Only some dogs are allergic to wheat gluten, but they are scarce.
Grains Don't Have all the Nutrients.
Grains are a good source of nutrients for your dog, as they're an excellent vitamin and fiber source. The grains in your dog food can be the reason for your dog's healthy skin and a healthy immune system.
Grain-free Diets are Better.
There isn't any scientific record that shows that a grain-free diet is healthier for your dog than the grain diet. A grain-free diet is advisable only on doctor's order or when your dog is allergic to the grains, which also happens in sporadic cases.
Corn in Grain Food is not Healthy.
Corn is a popular cereal grain; also, its moderate quantity won't be harmful to your dog. So if you want to feed an adequate amount of corn to your dog, it would be fine.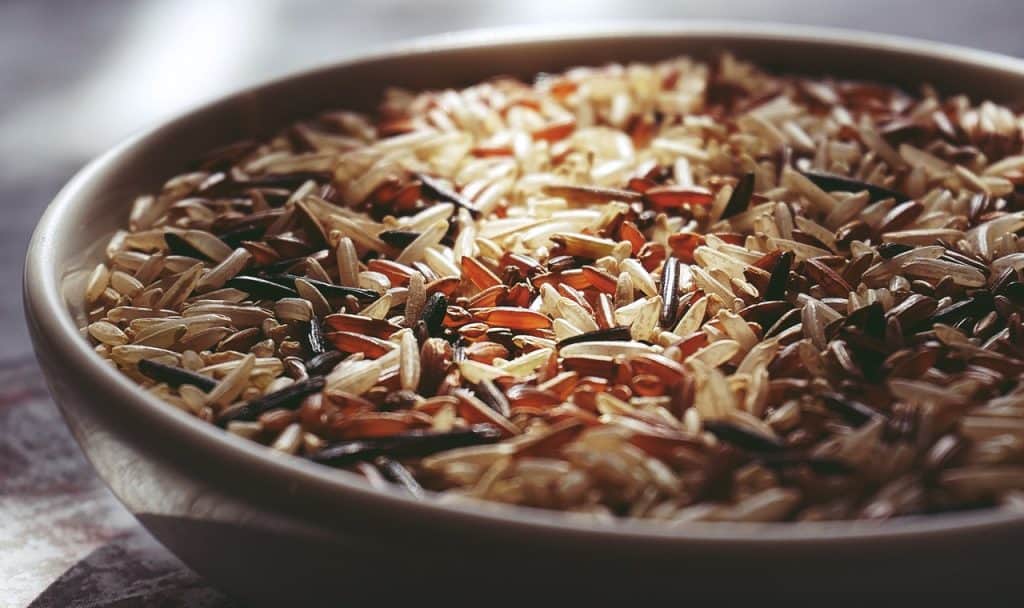 How to Choose the Right Food for your Dog?
It is essential not to compromise your dog's food quality because bad quality food can result in bad health. Here are the critical aspects you should consider before feeding your dog,
Know the Ingredients
You should know what ingredients are in your dog's food, check the label lists ingredients based on the suggested diet. If you want to avoid allergies in your dog, you can also feed it vegetables some time. Meat is also good for your dog, as it contains many essential nutrients.
Know About your Dog's Age and Breed
Different breeds of puppies require other food because of their age and body system; some highly active and robust species require more energy, which ultimately means more calories. In contrast, some other breeds require less calorie intake. In such cases, to buy the right food, you should go to a reliable and high-quality pet food company as many of the brands also make food based on the dog's breed and age.
Ask your Veterinarian
No one knows better about your dog's health and food than its vet, so the best food you can opt for your dog is by asking your veterinarian, he/she can suggest you the proper diet for your dog. Mostly the vet will offer you a low-calorie diet because once the dog grows up, it eats less, which means even if he eats less, it should eat healthily, but for smaller puppies, he/ she would suggest you maximum food intake.
In all, it would help if you kept your dog healthy and safe. So feed your dog healthy food as it will reduce the risk of different health diseases at a high rate.