The Indian government now focuses on restarting the economy slowly. With further curbs relaxed in Lockdown 4.0, here are the list activities allowed and prohibited in India. 
Lockdown 4.0 Fresh Guidelines
The Home Ministry released a series of new guidelines for the activities allowed and prohibited from 18th May 2020.
Allowed Activities
All activities allowed in Lockdown 3.0 shall continue to be unrestricted in the fourth phase.
Division of Zones
The new phase of lockdown allows the States and UTs to define Red, Green, and Orange and containment zones based on their assessment and parameters shared by the Health Ministry. However, there should be no dilution of restrictions in the process.
Movement
States and UTs can decide Interstate movement of passenger vehicles and buses with mutual consent.
Use of Aarogya Setu
The government has advised employers to encourage the use of the 'Aarogya Setu' app to ensure the best safety in offices and workplaces.
Shops and Markets
The Centre has allowed re-opening of all shops except for malls and complexes during lockdown 4.0. However, they must ensure a minimum of 6 feet distance among customers and not allow more than five people at a time inside the shop. Also, there is provision for thermal scanning, hand wash, and sanitizers at all entry and exit points and common areas. E-commerce companies can now provide services for non-essential goods, even in red zones.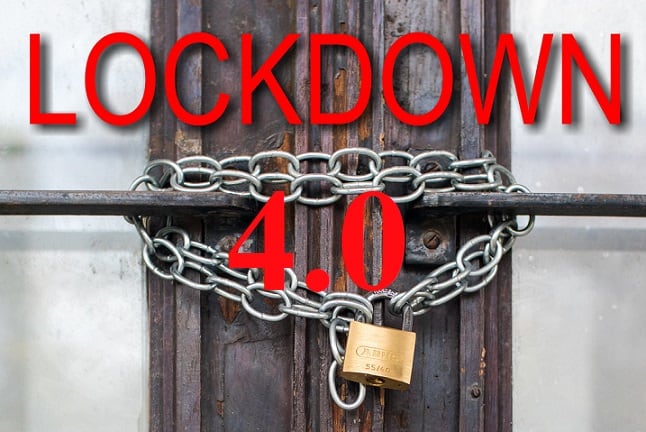 Prohibited Activities
Air Travel
All domestic and international air travel of passengers will remain shut. Air travel permitted by MHA for security purposes and medical services will operate.
Educational Institutions, Metro and Hospitality Services
Metro services, schools, colleges, and hospitality services will continue to remain shut in the lockdown 4.0 phase. However, hotel kitchens can operate to provide food home delivery services. Also, hospitality services providing facilities to stranded health workers, government officials, and tourists in quarantine will continue to work.
Sports, Entertainment, Religious and Social Gatherings
Cinemas, shopping malls, gymnasiums, swimming pools will remain closed. Besides, all political, social, entertainment, and sports congregations shall continue 5o remain shut. Also, religious places shall stay closed for the public. Not more than 50 and 20 people allowed for marriage functions and funerals respectively.
Indian Government has banned the consumption of liquor, gutka, pan masala, tobacco in public places during lockdown 4.0. Besides, only essential activities are to be carried on in containment zones. 
Making or circulating a false alarm leading to panic is punishable with imprisonment up to one year or with a fine. Also, obstruction to any government employee is criminal. 
In all, the centre has provided more freedom to states in lockdown 4.0 for a smooth resumption of economic activities.