Concerning news, the income inequality in India deepens further making the rich richer and poor poorer. Period of 2009-2019 has shown a tremendous increase in rising billionaires in the country. Beating the economic slowdown, India added 7300 millionaires in 2018. However, India ranks 103rd on the Global Hunger Index.
The Rich Side
The latest report of 2018 revealed that India's richest one percent holds 73% of the country's wealth. This was 53% in 2017. The Credit Suisse report ranked India fifth in terms of ultra-rich population. Around 15.6 million people (1.8%) have net worth of $1,00,000. The numbers reveal that there has been an addition of 10.8 million people to the 'ultra-rich' group.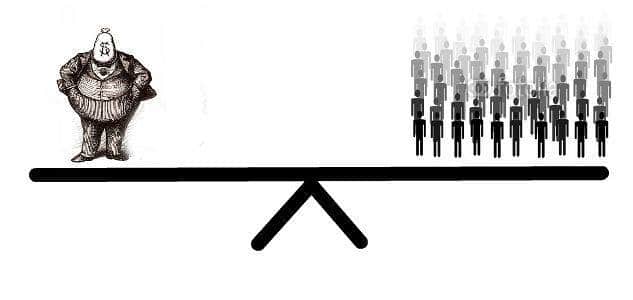 The Credit Suisse report made future growth predictions stating a 56% rise in the number of millionaires in India over the next five years. It is expected to reach 1.2 million by 2024.
The averages wealth of Indians has increased by 11% annually in 2009-19. The average wealth per adult is $14,569.
The Poor Side
Despite such an increase in its wealth, the country is in the category of experiencing 'serious level hunger'. Children are deprived form nutritious food, dampening their growth. According to the UNICEF report, 36% of children under the age of five years are underweight. Almost 3000 children die due to poor diet daily. The lack of a nutritious diet makes them prone to diseases and increases the mortality rate. This further lowered India's rank on Global Health Index.
On the other side, the UN report also stated that the number of obese adults grew from 24.1 million (2012) to 32.8 million (2016), which is 3.8% of the total adult population. On the same note, an Indian government official claimed that almost 300 million people were lifted above the poverty line from 2004 to 2018. 78% of the population has less than $10,000 whereas it was 91% in the previous year.
 The contradictory statements affirm that the reduction in poverty is relatively less, comparing the decrease from 48.9% (1987) to 21.2% (2011).
Banerjee's Take
The Noble winning economist, Abhijeet Banerjee, stated in an interview that the growth in GDP does not reflect the eradication of poverty. He further added that there has been a reduction of 28% in the poor population, however, only a small percentage of GDP goes to them. Although he praised the government's efforts in schemes like NREGA and Ujjwala, he also showed his concern for the widening gap between rich and poor.
To sum up, the increasing income inequality is a distressing situation that needs to be curbed immediately.