Gujarat confirmed 176 new Coronavirus cases since Friday evening taking total Coronavirus cases in the state to 1272.  There are 1136 active case, 88 cured cases and 48 deaths reported in the state so far.
Gujarat Plans Plasma Treatment for COVID-19 Patients
Increasing number of cases led to Gujarat government requesting ICMR to carry out plasma transfusion treatment for Coronavirus COVID-19 patients. In this treatment, plasma cells extracted from the blood of fully cured Coronavirus patients are injected into critical patients to help them generate antibodies to fight the virus. ICMR gave permission to Kerala government to start treating the Coronavirus patients in the state.
District Wise Tally
Ahmedabad remains the hotspot in Gujarat with 765 cases. Coronavirus cases in Ahmedabad district are higher than 26 states in India. District wise tally:
| | |
| --- | --- |
| District | Confirmed |
| Ahmedabad | 765 |
| Surat | 156 |
| Vadodara | 150 |
| Rajkot | 30 |
| Bhavnagar | 28 |
| Anand | 27 |
| Bharuch | 22 |
| Gandhinagar | 17 |
| Patan | 15 |
| Narmada | 11 |
| Banas Kantha | 9 |
| Panch Mahals | 8 |
| Chota Udaipur | 6 |
| Botad | 4 |
| Kachchh | 4 |
| Mahesana | 4 |
| Dahod | 3 |
| Kheda | 3 |
| Porbandar | 3 |
| Gir Somnath | 2 |
| Aravalli Kantha | 1 |
| Jamnagar | 1 |
| Mahisagar | 1 |
| Morbi | 1 |
| Sabar | 1 |
Total Coronavirus Cases in Gujarat District Wise Tally
Subsequently, the rest of the cities in Gujarat show 10 or less active infections. Among the infected, merely 44 have recovered suggesting that the recovery is higher than death however, not purely sufficient.
Gujarat Institute Decodes Genome Sequence and Identifies 3 Mutations of COVID-19
Researchers at Gujarat Biotechnology Research Centre confirmed that they were able to decode the Genome sequence of COVID-19 and identified three new mutations of Coronavirus on Friday 18th of April 2020. Chinese researchers confirmed six new mutations of Coronavirus in China. This is the second research institute in India to have successfully decoded the genome sequence after National Institute of Virology Pune confirmed on 30th of March.
Cured Cases and Deaths
Over 444 patients are on the path of recovery by receiving stable treatments as 88 have been cured and discharged. So far, Ahmedabad and Vadodara are the main contaminant cities.
The fatality rate is considerably high when compared to other states with 48 deaths.
250,000 Odisha Labourers Stranded in Gujarat
The 2.50-lakh labourers stuck and stranded in Gujarat under living in cramped rooms, with low food and no income. Struggling to cope without basic necessities most of these workers used to work in the textile mills in Surat Gujarat. Getting raw wheat, rice, sugar and pulses from the government will not help as more than 20 of them live in one room and cooking becomes very difficult for them. Government aims to come up with a way of sending all migrant labourers after the lockdown ends.
Segregating Muslim and Hindu Coronavirus Patients in Different Wards
A Government hospital in Ahmedabad Gujarat has been reportedly been segregating Muslim COVID-19 patients in different wards and Hindu COVID-19 patients in different wards. Normally, women and men patients have different wards assigned to them and never has faith segregation taken place. This comes after Indian Media and WhatsApp forwards continued to spread communal messages that Muslims in India are spreading Coronavirus since Tablighi Jamaat event.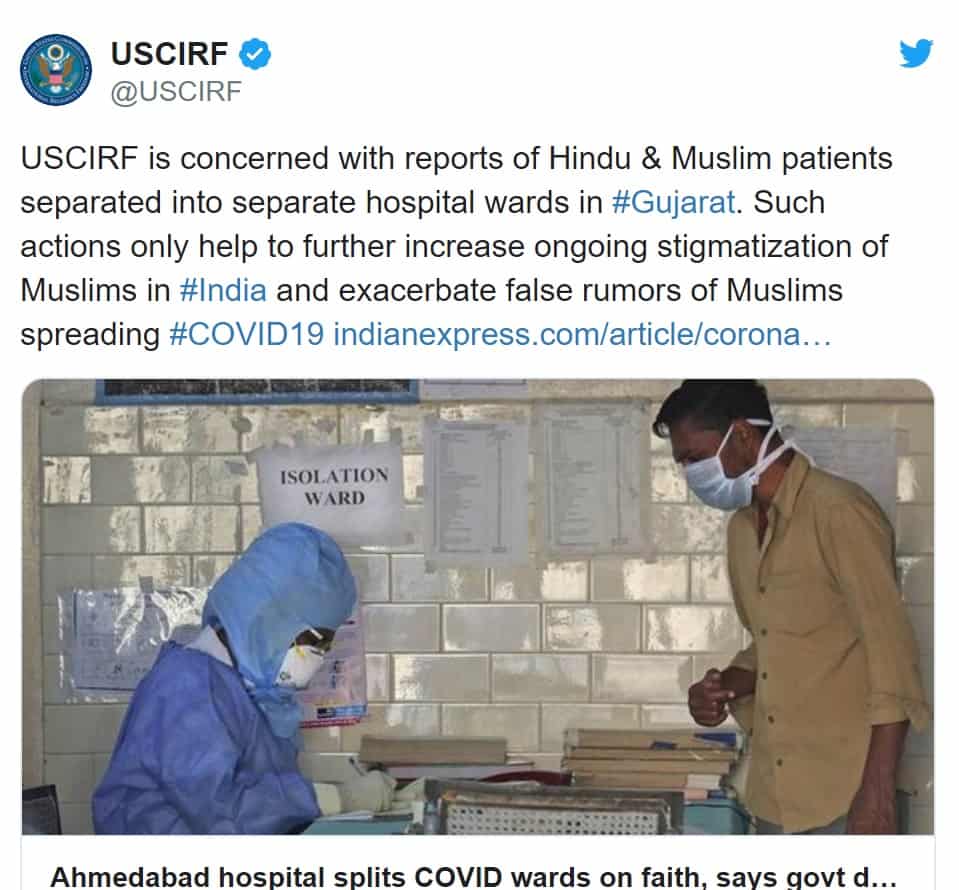 Bharuch Civil Hospital Shutdown
Six hospital staff members including a doctor tested positive for Coronavirus. Rest of the staff have been asked to self-quarantine, as hospital temporarily remains shut. In addition, OPD won't be allowed to function as confirmed by state officials.
Following the extremity of Coronavirus Gujarat Government announced fine of Rs 5000 for people violating lockdown and Rs 1000 fixed for not wearing masks in Public.